Hot plate: Mahalo Poké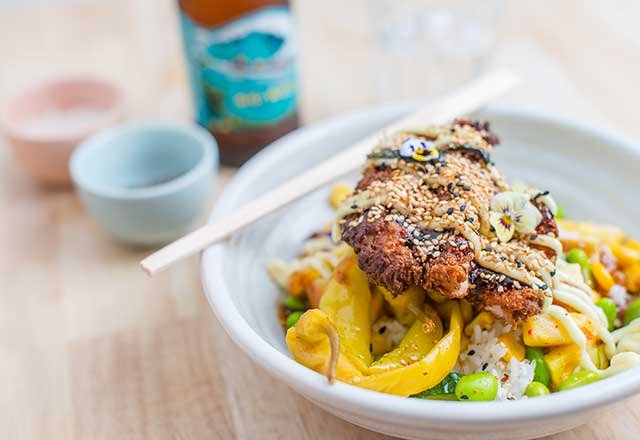 We chat to restaurant owner and Richmond local, Nathan Peck about his latest venture, Mahalo Poké.
While the kebab joints and pubs in Richmond (located in Melbourne's inner-east) still do a roaring trade – especially when crowds flock to the nearby MCG and AAMI Park for games or shows – they no longer define Swan Street's dining scene.
Over the past five years the street's culinary belly has swelled to include thriving multi-venue restaurants such as Meatballs & Wine, Belle's (where natural wine meets fried chicken), Grill'd, Rustica Sourdough Bread, Gelato Messina, Benny Burger and a host of unique restaurants and bars.
"It's the street that never sleeps – every day is a bit different to the last," says restaurant owner and Richmond local Nathan Peck. "Having the main sporting and event precinct so close offers up a diverse crowd daily; add that to the amazing locals that we now call friends, it's an amazing area to be in at the moment and it's still growing rapidly."
Peck's second venue, Mahalo Poké, opened in February this year, focussing on a cuisine relatively newfound to Australians: Hawaiian. Mahalo Poké specialises in the Japanese-influenced bowls that we now know as poké. Pronounced 'poh-keh' (the Hawaiian verb for 'section' or 'to slice or cut'), the name refers to traditional Hawaiian seafood preparation. But the menu isn't just fish. Open for breakfast, lunch and dinner, Mahalo Poké serves up everything from Hawaiian pancakes, açai bowls and smoothies, to burgers and waffle fries served with kimchi. On the poké front, while tuna, salmon and king fish bowls do shine, there's also crispy soft shell crab, fried chicken or roasted beetroots – served with your choice of toppings on a base of soba noodles, rice or kale.
Peck amassed more than 10 years experience in a variety of restaurants, pubs and bars before opening his first venue, Botherambo, in 2014. Botherambo boasts an extensive menu of modern Asian dishes, a well-stocked bar, a leafy outdoor area and a bottle of sriracha on every table (not to mention the exposed brick walls and low lighting that Melburnians love) and is located scarcely a block away from Mahalo Poké. Head chef Kim Maree Moore and her team work across both venues.
We asked Nathan Peck…
Can you tell us a little bit about where your passion for food started?
My passion for food stems from my family. Growing up, food was a big part of our lives. My background is Macedonian – generally that means that someone's trying to feed you at all times.

Poké is a trend that's really boomed in Melbourne, what do you think has made it so successful?
Melburnians are busy, they needed a quick healthy meal that is affordable daily and via UberEats makes it even easier. It also shows that we are a very health-conscious city.

Do you have a personal favourite Mahalo Poké bowl combo?
My daily go-to is the Spicy Salmon bowl with brown rice, filled with edamame, pickled ginger, cucumber, purple cabbage and carrot. The dressing is a gluten-free soy tahini. And I always add smashed avo!
What does 'healthy eating' mean to you?
To put it simply 'balance' – we eat healthy a lot at Mahalo but sometimes you need a burger.

Finish this sentence: Mahalo Poké is the best place to… be yourself and eat what you want.
Photography: Eugene Hyland
77 Swan St, Richmond, VIC 3121