Hot plate: Kiss the Berry
Hot plate: Kiss the Berry
Just when we thought the burgeoning superfood scene in Brisbane could get any more radical, we met Kiss the Berry in Brisbane's CBD.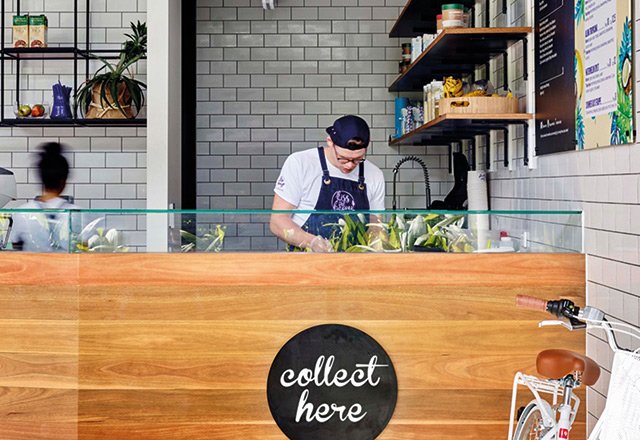 Their name and their menu is a homage to the sweet, tangy and nutrition-packed fruit that – from smoothies to bowls to frozen desserts – we simply can't get enough of: the acai berry.
It began as an idea between good friends Sarah Miller and Keziah Bossley after Miller visited the US and tasted acai for the first time. At the time, purple sorbet topped with granola and fresh fruits hardly seemed like health food. But a few bowls and a few more good conversations later, Miller discovered that this treat was made with acai. "It was like nothing I had ever eaten before," said Miller, who grew up in Brisbane, Australia.
This wasn't long before the acai berry became known around the world as a superfood for its unique nutritional profile: high in antioxidants, fibre and plant-based fats. Miller says, "Keziah and I had always spoken about one day opening our own café, and when I returned from my US trip, I was completely inspired by the superfood berry and ready to give it a go."
Kiss the Berry began with humble roots – peddling acai-based eats at a local market store throughout 2013. By 2014, the first Kiss the Berry store opened on Creek Street in the Brisbane CBD. By December they were operating in a second location on Southbank, offering acai bowls and smoothies, Saturday exercise classes and health and nutrition workshops.
"Acai bowls are such a refreshing meal, so it was the perfect food to introduce to the Brisbane market," Bossley says. Wanting to take their business to the next level, Bossley and Miller sought to find an organic acai product. To their delight, they discovered Sambazon – the same acai company that first helped its rise to popularity in the USA and the world's only organic and fair trade frozen acai product. "I tasted Sambazon while I was overseas and loved the flavour and respected the fair trade initiatives the company stood for. As soon as it became available in Australia, we introduced it to Kiss the Berry and have never looked back."
Kiss the Berry stands by its own socially responsible initiatives with a percentage of profits made from the sale of a special bowl supporting a different charity each season. Throughout autumn, Kiss the Berry is supporting homeless youth with the Orange Sky Laundry Bowl: organic acai blended with mango, raspberries, orange juice and tangerine essential oil and topped with handmade granola, orange, rockmelon, pineapple, strawberries, bee pollen, coconut flakes and passionfruit.
Other bowls on offer all year round include the Snickers Bowl, made with organic acai, banana, raw cacao powder, almond butter, coconut water and almond milk, and the Green Machine: organic acai blended with banana, spinach and kale and topped with activated buckinis, kiwifruit, apple, banana and goji berries.
Recipes are inspired by some of the girls' favourite healthy chefs, such as Lola Berry and Jamie Oliver. Miller and Bossley hope to open a third store on the Gold Coast within 12 months and dream of taking Kiss the Berry all across Australia.
For locations, menu and more, visit their official website and follow them on Instagram @kisstheberry.