Inside Martyna Angell's kitchen
Inside Martyna Angell's kitchen
Get to know the creative mind behind the Wholesome Cook.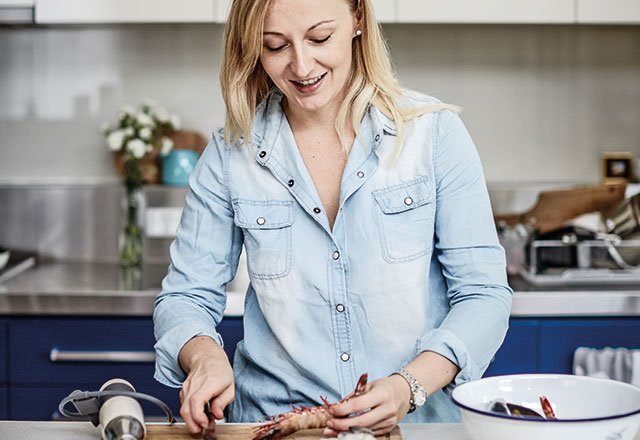 Get to know Martyna Angell and discover what keeps her cooking.
Tell us a little about yourself.
I'm a Polish-born Australian living in Sydney with my husband, Matt, his two wonderful kids and our Jack Russell terrier, Kasha. Food has always been my true passion – the blog, interest in food styling and photography seemed to naturally follow suit.
Has your heritage shaped your food?
I grew up in and around Warsaw – the capital – but despite living in the city, real, seasonal food was always a part of my upbringing. We'd shop for produce at farmers' markets and cook fresh every day. I have fond memories of snacking on pickles for afternoon tea, making batches of blueberry pierogis with Mum in the summer holidays, and foraging for wild mushrooms in autumn.
What inspires you to cook?
I think the sense of community and love that surrounds eating good food together is what inspires me to cook, even on days when I am tired or stuck for time.
How did the Wholesome Cook start?
I began the blog as a way of keeping recipes in one place and sharing them with friends and family. Today, Wholesome Cook is where I share low-sugar recipes with options for various intolerances and diets intertwined with stories from our kitchen and home.
Most important health lesson?
I believe that we are all different and no single diet fits everyone the same. It's called bioindividuality. While I eat a mostly Paleo-inspired diet, low in rice, bread and pasta, my husband thrives on them, so I adapt my cooking to all of our needs – it's quite simple.
How do you find balance?
Taking time out from work on weekends has been one of the most amazingly freeing habits I've developed over the past couple of years. Running a number of calendars also helps keep things out of my head – I have a personal calendar, a work one, and we also have a family and a couple's calendar to schedule some 'us' time. I try to keep active by going for walks and try to pop into the gym a couple of times a week.
Ethos behind the new cookbook?
Real food. While I talk a lot about the 90/10 principle and eating the best food for your body – all recipes provide gluten-free options and many are adaptable for other dietary lifestyles. I also wanted to make the important point of reducing refined sugars in our diets and cutting out additives as much as possible.
Cooking soundtrack?
Hands down, Taylor Swift! I sing, dance and cook to her music almost every day; such a talented and classy young lady.
Chocolate or vanilla?
Chocolate cake, but vanilla ice cream.
Must-have kitchen appliance/utensil?
My Kitchenaid stick blender with a whisk and chopping attachment.
Favourite summer ingredients?
Berries, tomatoes, stone fruit and fresh herbs.
Favourite flavours?
Southeast Asian. Think lime, coconut, coriander, sesame seeds and chilli.
Favourite local?
Woolwich Pier for a pub meal, Stain Café for almond milk lattes and Boronia Bakehouse for sourdough rolls on weekends if I haven't had a chance to bake my own.
Favourite food styling tip?
Avoid 'funny' angles, most food actually looks best shot top down.
NEXT: Try Angell's amaranth tabouleh with beans and haloumi recipe today.