Double chocolate black bean cookies
Double chocolate black bean cookies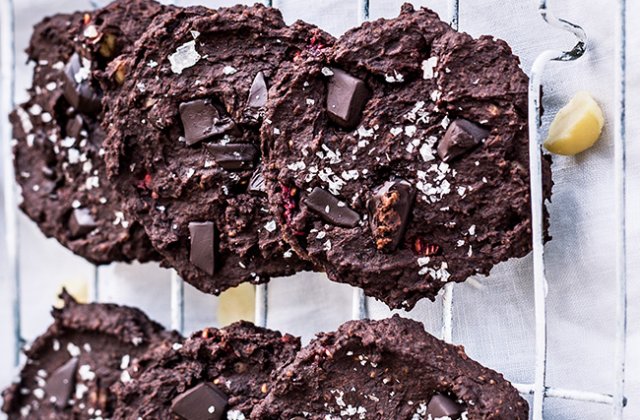 Packed with fibre, protein and antioxidants, a little indulgence without the guilt is possible with these delicious double chocolate black bean cookies.
Ingredients (Makes 10 large cookies)
2 tbsp chia seeds
⅓ cup water
1 tsp natural vanilla extract
1 can black beans, drained and rinsed
2 tbsp melted coconut oil
⅓ cup raw cacao powder
¼ cup granulated stevia or raw honey
⅓ cup almond meal
2 tbsp macadamias, roughly chopped
¼ cup raspberries, torn
¼ cup 85% dark chocolate, chopped
1 tsp Himalayan salt flakes
Method
Preheat the oven to 180°C and line a cookie sheet with baking paper.
Mix chia seeds with water and vanilla in a small bowl and set aside.
In a food processor, add the beans, coconut oil, cacao and stevia then blend until smooth.
Add the almond meal and chia mix, then blend again.
Remove the blade and stir through the macadamias, raspberries and chopped chocolate.
Spoon heaped tablespoons of the batter onto the lined baking sheet and spread with the back of spoon.
Top with course sea salt and bake for 15 minutes until the edges brown.
Allow to cool before eating and store in the fridge.
Recipes and images: Sally O'Neil.
NEXT: Try these matchocolate cups for another delicious treat.