Chicken pie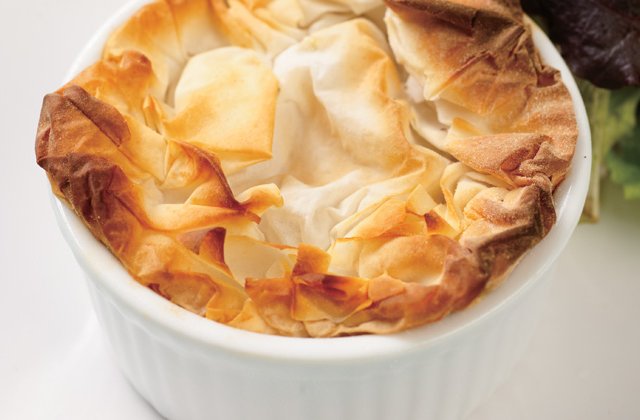 Looking for delicious winter recipes? Try this crispy chicken pie with chunky vegetables.
Ingredients (serves 2)
1 skinless chicken breast, diced
1 bay leaf
½ cup green beans, diced
½ cup carrot, diced
½ cup sweet potato, diced
½ cup leek, finely sliced
½ cup chicken stock (from poaching chicken breast)
2 tbs low-fat milk
1 tbs cornflour
1 tbsp flat leaf parsley, chopped
Cracked black pepper to season
2 small sheets low-fat filo pastry to fit over the individual pie tin
tsp olive oil
Method
Preheat oven to 200°C.
In a saucepan, poach chicken breast with bay leaf for 15 to 20 minutes. Put aside ½ cup of stock for later and place chicken into a pie dish.
Stir-fry vegetables and parsley in a pan with a little oil for a few minutes. Mix cornflour with milk and add to stock. Season with cracked black pepper and add to the chicken in the pie dish.
Brush filo pastry with oil and place over the top of the dish, scrunching it up slightly. Bake until golden brown and serve.