Chicken, macadamia & green veg pesto pasta
Chicken, macadamia & green veg pesto pasta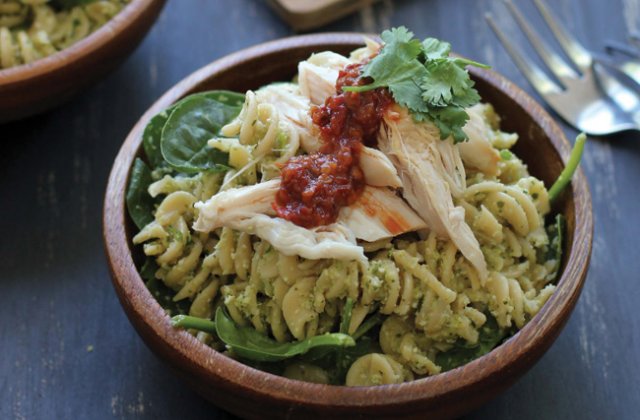 We love this pesto pasta with avocado, macadamia nuts and shredded chicken.
Spelt pasta is gentler on the gut than wheat varieties and can often be enjoyed in moderation by those with a mild gluten or wheat intolerance. It has a richer flavour and texture. As for the pesto, it is packed with nutrient-dense ingredients and good-quality fats.

Ingredients (serves 2)
150g spelt pasta spirals
1 cup (200g) broccoli florets
75g macadamia nuts
3 sprigs (75g) fresh coriander, chopped finely
3 tbsp lemon juice
3 tbsp macadamia oil
3 tbsp grated Parmesan (or nutritional yeast flakes for a vegan, dairy-free version)
½ ripe avocado
Sea salt and pepper to taste
1 cup baby spinach leaves
To serve
1 cup baby spinach leaves
¼ free-range barbecue chicken, breast meat shredded
Soy sauce
Sambal oelek (Indonesian chilli paste)
METHOD
In a large saucepan bring two litres of water to a boil and add pasta. Cook for 12 minutes, or according to packet instuctions. In the last two minutes of cooking, add broccoli to blanch.
In the meantime, place macadamia nuts in a food processor or chopping attachment of your stick blender. Process for three to four minutes, or until the macadamias have turned into smooth, creamy butter. Add blanched broccoli and all remaining ingredients, except for baby spinach leaves, and process until it resembles a coarse paste. Season with salt and pepper.
Drain pasta, stir through pesto and baby spinach leaves through the hot pasta. Serve with shredded barbecue chicken, a drizzle of soy sauce and chilli paste.
Recipe from Martyna Angell, wholesome-cook.com.