BBQ chicken brunch bowl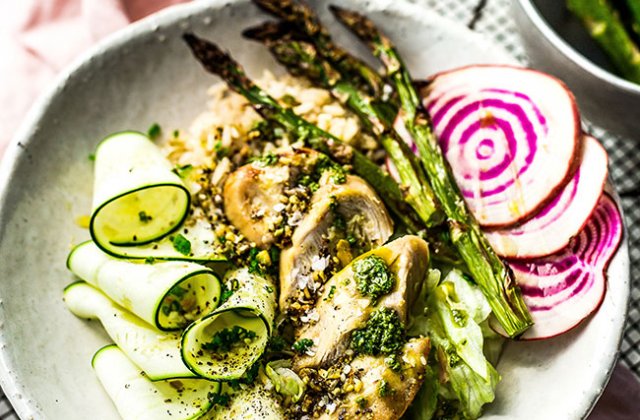 There's nothing quite like barbecued chicken cooked to perfection on a hot grill. Pair it with some simple seasonal greens, and fresh pesto and homemade dukkah for your new brunch favourite.
Ingredients (serves 4)
4 skinless, organic chicken breasts
2 tbsp extra-virgin olive oil
2 bunches fresh asparagus
2 zucchini
2 cups cooked brown rice
1 target beetroot, thinly sliced (to garnish)
4 tbsp fresh pesto
Dukkah
½ cup macadamias
⅛ cup sesame seeds, toasted
1 tbsp coriander seeds
1 tbsp cumin seeds
1 tsp ground pepper
1 tsp good quality sea salt
Method
Prepare the dukkah by adding the nuts to a pestle and mortar and smashing them to small pieces. Add the sesame seeds, spices and salt, smash a little more, and store in a glass jar.
Rub the chicken in the olive oil (reserving a teaspoon for the asparagus) and add to the grill, cooking for 18 to 25 minutes until cooked through, depending on the size and thickness of the breasts.
Add the remaining oil to the asparagus and add that to the grill 15 minutes after you add the chicken.
Meanwhile, ribbon the zucchini by running a vegetable peeler down the length of the veg and lay on the plates, along with the brown rice.
Slice and serve the breast with the asparagus, beetroot slices, a drizzle of pesto and a good helping of fresh dukkah.
Recipe by Sally O'Neil AKA The Fit Foodie.