Southern coconut double bean curry
Southern coconut double bean curry
Celebrating Indian cuisine with a twist.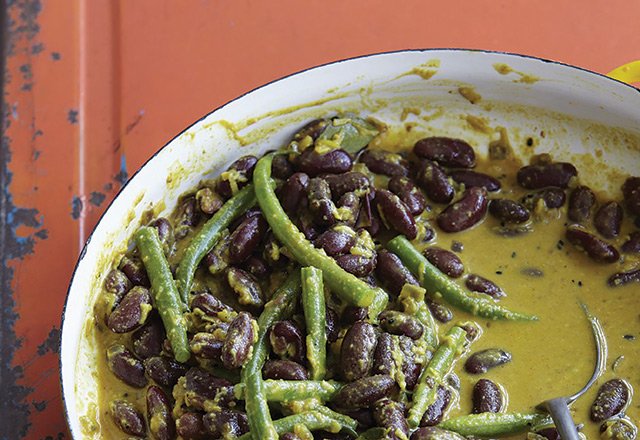 Dubbed the Nigella of Indian Cuisine, Anjum Anand shares her go-to curry.
This is an everyday curry to which I turn to often, as I always have cans of kidney beans in my larder as well as a block of creamed coconut and some tamarind paste. But it is certainly not everyday in taste. I add the green beans to make a complete meal, but you can leave them out, or add any other vegetable. The sugar subtly enhances the coconut flavour. Serve with rice. 
Ingredients (serves 4)

3 tbsp vegetable oil
¾ tsp mustard seeds
1 smallish red onion, finely chopped
10–12 fresh curry leaves
6 fat garlic cloves, grated
2 tsp ground coriander
½ tsp chilli powder, or to taste
½ tsp turmeric
1 tsp ground cumin salt
2 x 400g cans kidney beans, drained and rinsed
75 g green beans, topped, tailed and halved
60 g creamed coconut block (around 7.5cm cube)
1 tsp caster sugar, or to taste
2–3 tsp tamarind paste, or to taste
Method
Heat the oil in a medium-large non-stick saucepan.
Add the mustard seeds and, once the popping subsides, add the onion and curry leaves and cook until the onion is soft and turning colour.
Add the garlic and stir-fry for 1 minute, or until it smells cooked.
Add the ground spices and some salt with a splash of water and cook for 1 or 2 minutes.
Add both types of beans and the coconut, with one-quarter of a bean can-full of water.
Bring to the boil, then reduce the heat and simmer for five to seven minutes, or until everything comes together and has thickened slightly.
Stir in the sugar and tamarind paste to taste, then adjust the seasoning to serve.
Recipe by Anjum Anand.
Find more of Anjum Anand's recipes and her story in the May edition of Nourish Magazine.