Rachel Khoo's tips for working in a minimalist kitchen
Rachel Khoo's tips for working in a minimalist kitchen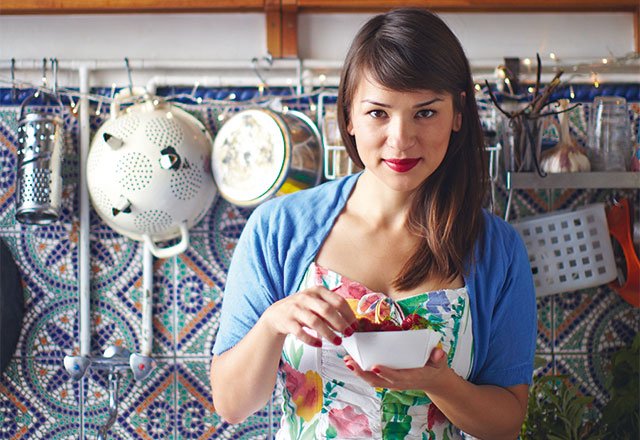 Are you working in a restricted kitchen space? Rachel Khoo spoke to us about how to make the most of working in confined spaces.
Having set up a two-person restaurant in a tiny Parisian flat, which prompted a top-selling cookbook and a much-loved TV series, The Little Paris Kitchen, Rachel Khoo is a cook who is all-too familiar with the complexities of working in a minimal kitchen. Rachel is a UN Ambassador for food waste who is now simultaneously running a digital lifestyle magazine, khoollect.com, from a narrow London-based Victorian flat, while also busying herself in a petite Stockholm apartment, developing recipes for her next book project, The Little Swedish Kitchen. It was from here that Rachel called Nourish, to talk about how she makes the most of working in potentially restrictive kitchen spaces.
As a professional cook, does having a tiny kitchen present a big challenge?
If you love cooking, you'll always manage to make the most of what you have wherever you are. Whether you're perched on a beach with a dinner-plate-sized barbeque, cooking over a campfire in the dark with limited equipment, or living in a bustling city where your apartment could be best described as petit, you can always make the most of what you have. You simply need to adapt your recipes a little to your environment, and think about how you can get creative with a limited supply of cooking utensils. There's always a way and I always make it work for me. Sure, it's a luxury to have a spacious kitchen with endless provisions and a walk-in fridge full of ingredients, but some of my best cooking has happened in cramped places.
How did you house a restaurant in your Parisian apartment?
My Little Paris Kitchen restaurant was a tiny, two-seater dining spot. It was cosy, to say the least. The guests just had to put up with me clunking away and washing up the dishes. I actually sat down to lunch with them too. One of the requirements of coming to lunch was being willing to have a conversation with me. I used my restaurant as a way to test recipes, while I was mastering my craft. Soon enough, others wanted to know what I was cooking in such a tiny space, and it spurred The Little Paris Kitchen cookbook and TV series. I wanted to prove that you don't need a commercial kitchen to make magic happen.
What are your must-have kitchen essentials, wherever you're cooking?
For me, it's all about quality over quantity. I have a small but well-used collection of multi-purpose items. I cook a lot of French dishes, so having a good-quality French oven (or a heavy pot or casserole dish) is a must-have for me, as is a nice sharp knife and good-quality ingredients to work with. Of course it depends on what I'm whipping up, but you don't need every gadget and appliance under the sun to bring delicious recipes to life. If I'm travelling, you'll often see me using a wine bottle as a rolling pin, for instance. Everything has a purpose!
What advice do you have for those who love cooking but have very small spaces to work with?
Early on, it's important to figure out where your culinary strengths lie. This might sound like a strange suggestion, but bear with me. For example, if you're not likely to make pasta from scratch on a regular basis, there's no need to invest in a pasta maker or drying rack that'll take up space on your bench top. If you're not much of a baker, you probably don't need to have large mixers designed for making cakes in your kitchen. Think realistically about what you love to cook most, and invest in a few quality items that will help you with those particular dishes.
Grab the September 2017 edition of nourish for mastering the art of living and cooking with less.
Photography by David Loftus.