The pomegranate powerhouse
The pomegranate powerhouse
This fresh fruit isn't all looks.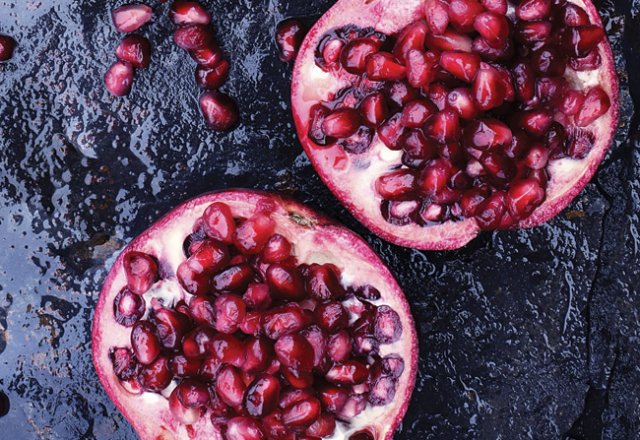 The pomegranate has long been associated with sophistication and luxury. In ancient Greek and Roman mythologies it was referred to as the 'fruit of paradise' and was a symbol of fertility, prosperity and abundance.
One of the oldest fruits, the earliest uses of pomegranate date back thousands of years to Persia (now Iran) and the western Himalayas. Though native to the Middle East, pomegranates have been cultivated throughout Southern Asia and the Mediterranean region for several millennia, and were a popular trade along the ancient oriental spice route now known as the Silk Road.
And it's not only the fruit of the pomegranate that is held in high regard. The roots, leaves, bark and flowers have also been acknowledged for their health benefits. In Indian Ayurvedic medicine, elements of pomegranates are used to treat everything from nosebleeds and gingivitis to dysentery and intestinal parasites, and in Morocco, where folk remedies are still very widely used, pomegranate peel is also combined with henna as a hair treatment. Today, modern medicine is rediscovering the potency of the pomegranate, and the exquisite seeded fruit is gaining popularity for its culinary and curative uses.
Benefits
While the ancients knew of its benefits thousands of years ago, Joshua Reuveni, co-founder and general manager of pomegranate producer and grower Pomlife, says the pomegranate is now recognised as one of nature's original sweet superfoods. Low in fat, cholesterol and sodium, pomegranates are a good source of vitamin C, potassium and iron as well as dietary fibre and folate. They are also particularly high in polyphenols, some of the highly effective antioxidants.
"Over the past decade, there have been numerous published studies related to the high antioxidant properties of the pomegranate, as well as its anti-carcinogenic and anti-inflammatory characteristics," he says. "These days, they are becoming more and more popular because of their wide-ranging health attributes and rich nutritional profile. The oil from the seed is also very sought after and is extremely expensive in the cosmetics and medicine industries."
Consumption of pomegranates has been shown to reduce the risk of:
Cardiovascular disease
Prostate and breast cancer
Diabetes
Dental conditions, through its blood clotting attributes
Bacterial infections
Antibiotic resistance
UV radiation-induced skin damage
Obesity
Nutrition
Pomegranates are low in calories, and contain no cholesterol or saturated fats. They are a good source of soluble and insoluble dietary fibre and are rich in B-complex vitamins such as pantothenic acid (vitamin B-5), folates, pyridoxine, and vitamins C and K. They also contain minerals such as calcium, copper, potassium and manganese. Pomegranate juice is also an abundant source of ellagitannin compounds such as granatin B, and punicalagin, which are effective in reducing heart-disease risk factors by scavenging harmful free radicals from the human body.
Availability
Pomegranates are in season from late-March until the end of August.
Selection
When it comes to picking a pomegranate, Reuveni says it's what's on the inside that counts.
"It doesn't really matter if a pomegranate's peel is bruised on the outside, if the crown is broken or if the peel looks a little bit wrinkly," he says. "Minor damage to the shell won't affect the seeds."
Reuveni says the redder the pomegranate, the sweeter it will be, so look for fruits that are nicely ripened with no green patches. He says they should look plump and feel heavy for their size.
Storage
Pomegranates have a long shelf life and can last for up to a month in a cool, dry area or refrigerated up to two months. Arils (seeds) can be frozen in an airtight bag for up to one year. Fresh juice should be refrigerated and consumed within two to three days.
Uses
"Pomegranate pairs nicely with lamb and is used a lot in Turkish and Moroccan cooking. You can use either the arils themselves in salads and main dishes, and the molasses goes well in dressings, sauces and cocktails," Reuveni says. "Or shuck and enjoy them raw, sprinkled over cereal or avocado, or in fresh fruit platters."

NEXT: Make some Raw chocolate bark with pomegranate and pistachios or browse more Food and diet articles