Pork meatballs with broad beans, blood orange & yoghurt
Pork meatballs with broad beans, blood orange & yoghurt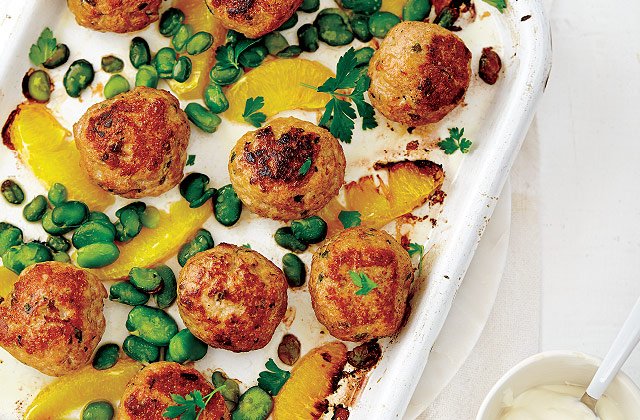 We love these pork meatballs with broad beans, blood orange & yoghurt. Serve with a fresh green salad.
Ingredients (Serves 4)
For the meatballs
500g organic pork mince
1 egg
1 tbsp polenta
2 cloves crushed fresh garlic
Zest of ½ an orange
1 tbsp chopped parsley
1 tsp cumin
½ tsp smoked paprika
Large pinch sea salt & cracked pepper
Olive oil for frying
1 orange, skin removed and cut into wedges
1 cup peeled broad beans
For the yoghurt
½ cup Greek yoghurt
Zest of ½ an orange
½ tsp cumin
Pinch salt and cracked pepper
Method
Preheat an oven to 180°C. Combine all of the ingredients for the meatballs (except oil, orange and beans) together well.
Roll into balls, this recipe will yield approx. 12, 50 cent-sized meatballs. Heat a large frypan to high heat and cook meatballs for two to three minutes until golden on the outside and still raw on the inside. Place meatballs in a large baking tray, scatter with broad beans and oranges and a drizzle of olive oil. Place in the oven and bake for 15 minutes until cooked through.
Combine ingredients for the yoghurt dressing together in a small bowl and serve over the meatballs. Best served with a fresh green salad.
Recipe from Gemma Lush; photo credit: Phu Tang