Lean pork burgers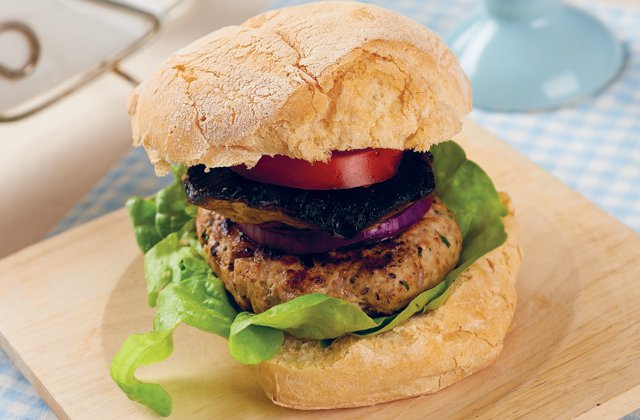 Fire up the barbie for a delicious summer treat
Ingredients (serves 4)
400g lean pork mince
1 tbs fresh flat leaf parsley, chopped
1 tbs grated parmesan cheese
4 tbs fresh or bought breadcrumbs
3 tbs red onion, finely diced
4 large lettuce leaves
4 large field mushrooms
4 tomatoes, sliced
4 wholemeal buns or rolls sliced in half
Salt and pepper for seasoning, if desired
Spray olive oil
Method
Place the mince, parsley, cheese, breadcrumbs and onion into a mixing bowl (add salt and pepper if desired). Mix well and form into four small patties to fit the bread rolls.
On a medium heat barbecue, spray some olive oil and place the patties onto the hotplate. Cook each side for about three minutes or until cooked. Cook mushroom on grill until it has browned slightly.
For serving, place a piece of lettuce, a mushroom and a slice of tomato on one half of a bun and add a cooked pork burger pattie. Cover with the other half and serve with your favourite condiment.