DIY dumplings for Chinese New Year
DIY dumplings for Chinese New Year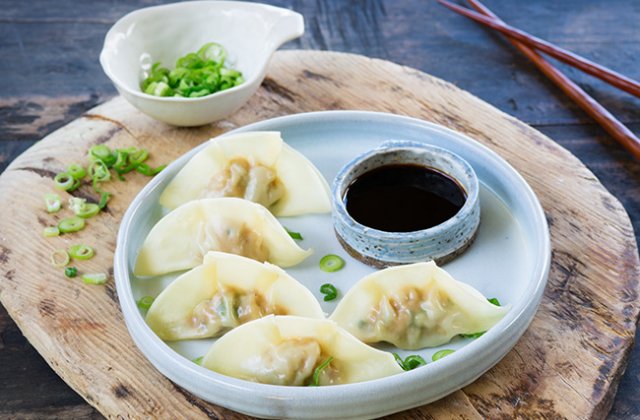 Drop that takeaway menu! These super-simple pork dumplings and dipping sauce can be put together quicker than you can say dim sum.
Simply defined, a 'dumpling' is a spoonful of meat or vegetables encased in a soft, stretchy wrapper – often dunked in a fresh, spicy dipping sauce and eating in one (large) mouthful. Yum! But dumplings are no longer reserved for dim sum (yum cha) outings or visits to the increasing number of 'dumpling houses' across Australia – they can be made simply and healthily at home.
Dumpling wrappers (sometimes referred to as dumpling 'skins') can be purchased at any Asian supermarket. Gluten-free dumpling wrappers are available at some health food shops, too.
While you can find dumplings fried or even boiled in restaurants, these tasty pork dumplings are steamed. Steaming is a fantastic, healthy way of cooking, and the best way to do it is to use a bamboo steamer. These are available, again, at many Asian supermarkets and some cookware stores. They're often super cheap and well worth the small investment.
Once you've started creating dumplings – I warn you – it's hard to stop. Don't hesitate to experiment with your own flavour combinations and ingredients. The world is your…dumpling?
Ingredients (Makes 30 dumplings)
Dumplings
500 g free range pork mince

2 tsp finely grated ginger

1 cup finely chopped shiitake mushrooms

2 tsp finely diced coriander, roots and leaves

1 tbsp tamari or light soy sauce

1 tsp sesame oil

1 packet of round dumpling wrappers
Dipping sauce
4 tbsp tamari

1 tbsp sesame oil

1 tbsp rice vinegar

1 tbsp chilli sauce
Method
1. Make your filling: Using a wooden spoon, mix pork mince with the grated ginger, mushrooms, coriander, tamari and sesame oil until really well combined. Place in the fridge for 30 mins if you have time.
2. Fill your dumplings: Take a dumpling wrapper in your hand and place a tablespoon of the mixture in the middle.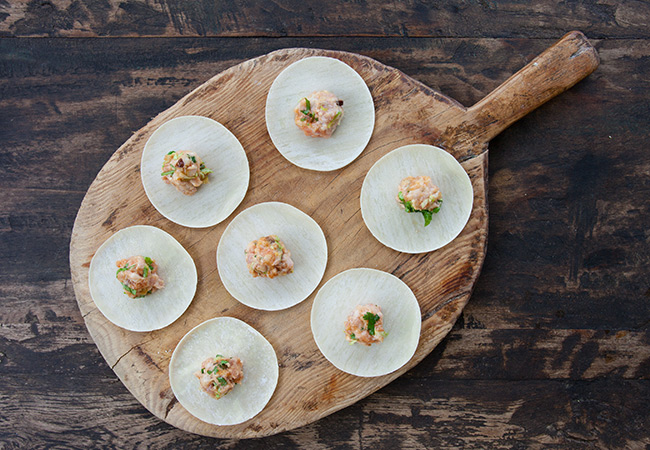 3. Close the dumpling: Dip a couple of fingers into some water and wet the rim of the wrapper then fold in half and press the edges together to seal. Make sure you get any air bubbles out of the inside. Either crimp the edges or leave plain. Place filled dumplings upright on a baking sheet and continue.
4. Cook: Place steamer over a pan of boiling water, ensuring that the water does not touch the bottom of the dumplings. Steam for 6 to 8 minutes or until the dumplings are transparent and the filling is cooked through.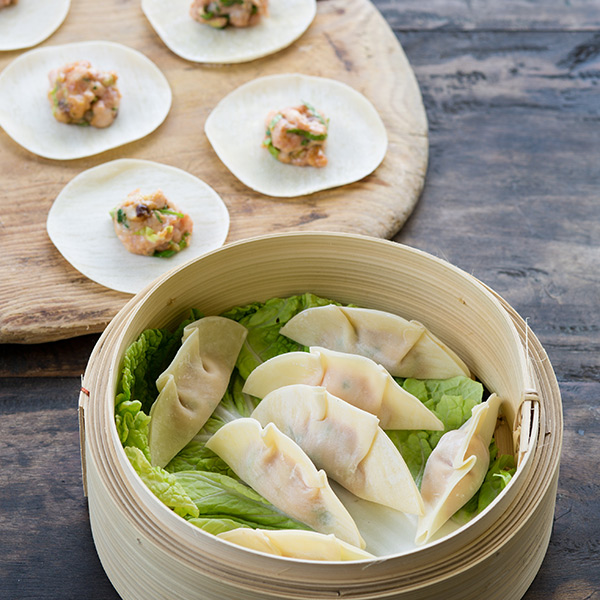 Make dipping sauce: Combine all ingredients in a small bowl and stir to combine.
Serve: Serve dumplings piping hot with dipping sauce and scattered spring onions.
Recipes: Kate Walsh
Photography: Nelly Le Comte
NEXT: Try these prawn wontons!