Pollo a la Braza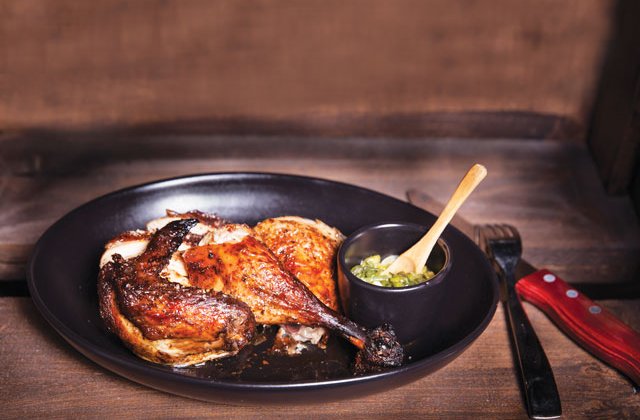 For a true taste of the Peruvian cuisine, try this chicken dish by award winning chef Alejandro Savaria of Melbourne's Pastuso.
Ingredients

1.4 kg whole free-range chicken

75 g whole black peppercorns

85 g cumin seeds

50 g coriander seeds

3 large garlic cloves

185 ml olive oil

225 ml red wine vinegar

375 ml dark beer

75 g caster sugar
Method
Place the spices in a dry frying pan, shake over medium heat for 1 to 2 minutes then cool.
Place the garlic and oil in a blender until the garlic is finely chopped, add vinegar and blend until well combined. Transfer to a bowl, add the beer, sugar, salt and ground spices, stir until salt and sugar is dissolved. Pour the marinade over the chicken and rub all over to coat well. Cover and refrigerate overnight. Preheat the oven to 220°C. Place the chicken on a wire rack in a roasting pan.
Pour over the remaining marinade, cover with baking paper and then with foil. Bake for 15 minutes. Remove the foil and paper and then bake for a further 15 minutes or until golden. The juices should now run clear when the thickest part of the thigh is pierced with a skewer.
NEXT: Let's go to Mexico with this gluten free Mexican salad recipe!