Braised chicken gumbo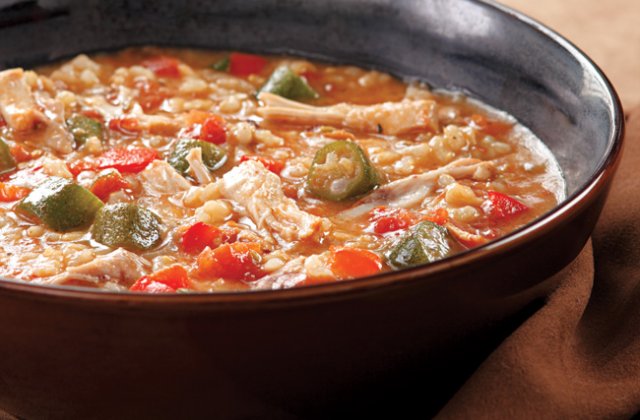 Leftovers make this chicken gumbo an absolute breeze. The only prep you'll need to do is to dice a capsicum and slice some okra if you're using fresh. That's it!
Ingredients (serves 4)
1 tbsp extra-virgin olive oil
1 medium red or green capsicum, diced
2 tbsp all-purpose flour
2 cups shredded free-range chicken
2 cups fresh tomato sauce (or from tinned tomatoes)
2 cups reduced-salt chicken stock
1 cup sliced okra, fresh or frozen (thawed)
¾ cup instant brown rice (see Tip)
¼ tsp cayenne pepper
METHOD
Heat oil in a large saucepan over medium heat. Add bell capsicum and flour and cook, stirring, until the capsicum is beginning to soften and the flour is golden brown, about two minutes.
Add chicken, tomato sauce, stock, okra, rice and cayenne. Bring to a boil. Reduce the heat and simmer until the flavours meld and the okra is tender, about 10 minutes.
Tip: If you want to use rice that is not 'instant,' stir in one cup of any leftover cooked rice instead. Or, if you have time, add half a cup of quick cooking wholegrain rice and an additional 1¼ cups of chicken stock, before adding the okra. Cook until the rice is almost tender, about 25 minutes (or according to package instructions) then add the okra and simmer until it is tender.
Browse more dinner ideas or connect with us on Facebook.