Wok-seared chicken tenders with asparagus & pistachios
Wok-seared chicken tenders with asparagus & pistachios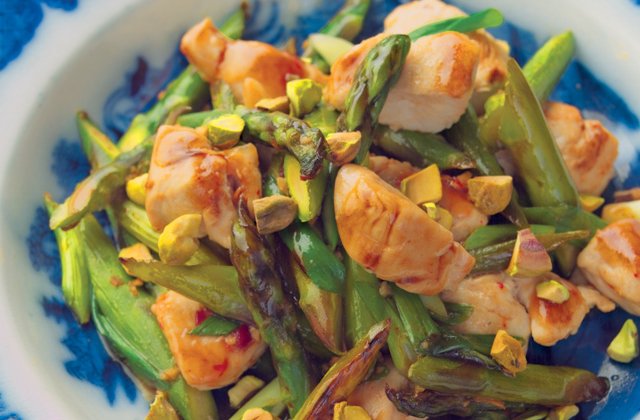 Here's an East-meets-West stir-fry that will soon become a family favourite. Serve it over rice, with a simple salad of rocket and orange sections dressed in a light vinaigrette.
Ingredients (Serves 4)
1 tbsp sesame oil
700 g fresh asparagus, tough ends trimmed, cut into 2cm pieces
450 g free range chicken tenders (see Ingredient Note), cut into bite-size pieces
4 spring onions, trimmed and cut into 2 cm pieces
2 tbsp minced fresh ginger
1 tbsp oyster sauce
1 tsp chilli-garlic sauce (see Ingredient Note)
¼ cup shelled salted pistachios, coarsely chopped
Method
Heat oil in a wok or large skillet over high heat. Add asparagus; cook, stirring, for two minutes. Add chicken; cook, stirring, for four minutes. Stir in spring onion, ginger, oyster sauce and chilli-garlic sauce; cook, stirring, until the chicken is juicy and just cooked through, one to two minutes more. Stir in pistachios and serve immediately.

Recipe Tips & Notes:
Ingredient Notes: Chicken tenders, virtually fat-free, are a strip of rib meat typically found attached to the underside of the chicken breast, but they can also be purchased separately. Tenders are perfect for quick stir-fries, chicken satay or kid-friendly breaded 'chicken fingers'.
Chilli-garlic sauce is a blend of ground red chillies, garlic and vinegar and is commonly used to add heat and flavour to Asian soups, sauces and stir-fries. It can be found in the Asian-food section of large supermarkets. It will keep in the refrigerator for up to one year.