The mind behind Nodo Donuts
The mind behind Nodo Donuts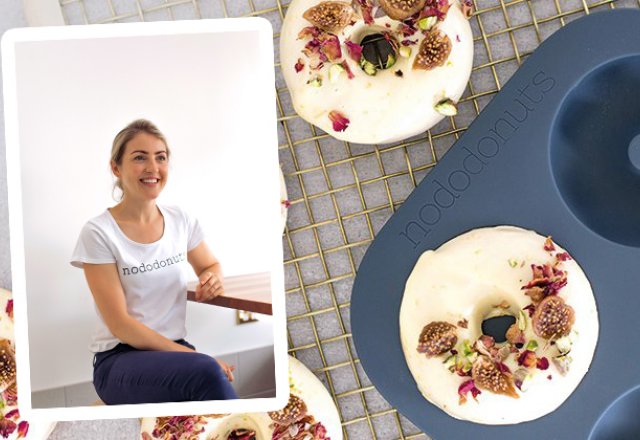 We speak to founder and delicious doughnut creator Kate Williams, who launched nodo (as in 'no dough') in 2014 with the intention of creating the world's friendliest doughnut.
We speak to founder and delicious doughnut creator Kate Williams, who launched nodo (as in 'no dough') in 2014 with the intention of creating the world's friendliest doughnut. By combining artisan methods, naturally gluten-free ingredients and health-focused ideas, Williams' philosophy is simple: eat doughnuts for breakfast.
Tell us a little about yourself?
I live for food. In my spare time I love to explore different cafes and restaurants. My background is in hospitality and marketing, so I don't have any formal qualifications in baking or pastry; I'm just extremely passionate about creating delicious gluten-free baked goods that appeal to everyone.
When did you decide that healthy doughnuts were your 'thing'? Did you used to make them for your friends and family before starting nodo?
I started making doughnuts because I wanted to bring the fun back into gluten-free baking. Doughnuts were my ultimate childhood treat, so years later, after being diagnosed with coeliac disease and becoming slightly more health conscious, I started baking healthy-style doughnuts. I spent months and months researching and product testing before launching at the markets just over two years ago. I quickly found out that I wasn't the only one with a love for baked gluten- free doughnuts.
Why do you choose to make your products gluten free?
Because I am a coeliac, I don't have a choice, but I also wanted the product to appeal to everyone, including those who love gluten-containing foods.
We use alternative flours that I blend myself in-house and use all-natural ingredients so the products are baked without any additives, artificial colours or flavours.
Your philosophy includes 'eating doughnuts for breakfast' – do you ever eat doughnuts for breakfast?
I stay true to my philosophy and eat doughnuts for breakfast every day. It would have to be the best way to start the day. Every morning I am in the kitchen baking and it's just part of the job to taste test the product – someone has to do it.
What, in your opinion, is the best thing about owning a doughnut shop?
It's definitely about connecting with new people and making them happy every day. I love to see how something so simple as a doughnut can put a smile on someone's face – it's a very rewarding and positive environment to 'work' in.
How will you be spoiling your mum on Mother's Day?
I love any excuse to pamper my mum. She lives in New South Wales, so I like to treat her to a facial or massage. If she lived a little closer I would be taking advantage of having a little time with her and shout her to a gourmet breakfast or lunch.
Why do you think this recipe is a great way to spoil our mums?
This has Mum's name all over it. It is inspired by a Persian love cake, with rose petals, figs and pistachios with an orange cake base. Who wouldn't adore this doughnut?
What is your personal favourite nodo doughnut flavour?
I used to be obsessed with the Blueberry Lemon Cheesecake and Pistachio Crumb but now my new favourite is the Valronha Beetroot with Dark Chocolate Glaze and Cacao Nib Crumble. You can't taste the beetroot and it's just a beautiful moist chocolate cake with the crunch of the cacao nibs – perfection.
Visit nodo in store or online at nodo.com.au // @nododonuts
1 Ella street (corner of Chester Street) Newstead, QLD 4006
Make these orange blossom and cardamom frosted doughnuts with baby figs and pistachios today!