7 reasons to love chocolate
7 reasons to love chocolate
Chocolate lovers rejoice!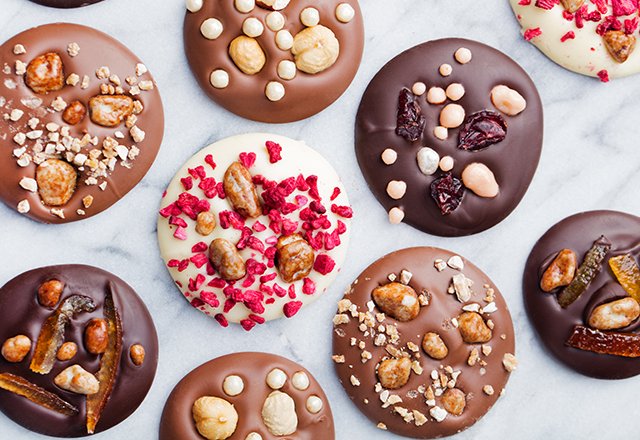 Of all the foods ever craved by humankind, chocolate is probably the most popular. Editor, Maddie Lakos did the ground work and uncovered seven reasons to love chocolate.
It has been in our diets in some form for more than 4000 years, from the ancient Aztec (where it was first considered a 'food of the gods') to today, where more than 50 per cent of us consume some kind of chocolate every month. Since the dawn of the chocolate bar (which, for the record, was in the mid 1800s) folks have been lusting after its sweet, creamy and undeniable moreish taste.
According to the Yale Journal of Biology and Medicine, the scientific use of the term 'addiction' first appeared in 1890 in reference to chocolate. Further to this, according to a publication from 1989 in Trends in Pharmaceutical Science chocolate's generally high fat and sugar content means that it ranks pretty high as a "hedonistically ideal substance", i.e. perfect for pleasure and self indulgence. But while chocolate's naughtier qualities are well documented, recently it has received some recognition for healthier effects – in moderation, of course.
1. Athletic performance
Heading to the gym? Eat some dark chocolate. It contains a substance called epicatechin, "A type of flavanol found in the cacao bean that also increases nitric oxide production in the body," says Kingston University researcher Rishikesh Kankesh Patel. "This dilates blood vessels and reduces oxygen consumption, allowing athletes to go further for longer."
2. Heart health
Yep! Subjects in a 2014 study published in The Federation of American Societies for Experimental Biology (FASEB) Journal ate 70 grams of dark chocolate per day for four weeks. The results showed that the chemical compounds in dark chocolate helped restore flexibility to arteries while also preventing white blood cells from sticking to the walls of blood vessels – both symptoms of atherosclerosis, the usual cause of heart attacks and strokes.
3. Brain power
A 2007 study by the University of Nottingham found that consumption of specially formulated cocoa products, rich in flavanols (again, the key ingredient in dark chocolate), increased blood flow to key areas of the brain for two to three hours. A 2015 study by Northern Arizona University followed this up using electroencephalography to measure brain patterns while doing a challenging task after eating 60 per cent dark chocolate. Results showed that the brain was more alert and attentive after consumption.
4. Reduced risk of stroke
A study of 37,103 Swedish men over a period of 10 years found that those who ate the largest amount of chocolate, around 63 grams per week, had a 17 per cent lower risk of stroke compared to those who did not consume any chocolate. Interestingly, about 90 per cent of the chocolate eaten in Sweden, including what was consumed during the study, is milk chocolate.
5. Lower blood pressure
Studies from the University of Adelaide found that chocolate can act as a vasodilator. "Flavanols have been shown to increase the formation of endothelial nitric oxide, which promotes vasodilation and consequently may lower blood pressure," says researcher Dr Karen Reid. "We've found that consumption can significantly, albeit modestly, reduce blood pressure for people with high blood pressure but not for people with normal blood pressure."
6. Stress relief
A 2009 study in the Journal of Proteome Research found that eating around 40 grams of chocolate each day for a period of two weeks reduced levels of stress hormones in the bodies of people feeling highly stressed. This included the stress hormone, cortisol, and measurable impacts of stress in the gut.
7. Mood elevation
Chocolate contains a substance called phenethylamine (PEA) – known as the 'love chemical', alongside other more familiar names such as dopamine. Although, according to the Human Microbiome Database (yep, our gut has a database) trace amounts of phenethylamine from food are quickly metabolised into phenylacetic acid – preventing significant concentrations from reaching the brain. But there is something to be said for the mood-elevating properties of theobromine (similar to caffeine), carbohydrates and sugars in chocolate, too.
Grab the April 2017 edition of nourish magazine for our chocolate lover's Buyers Guide!