Hot plate: Piermont Homestead Restaurant
Hot plate: Piermont Homestead Restaurant
Getting to know the minds behind this Tasmanian restaurant.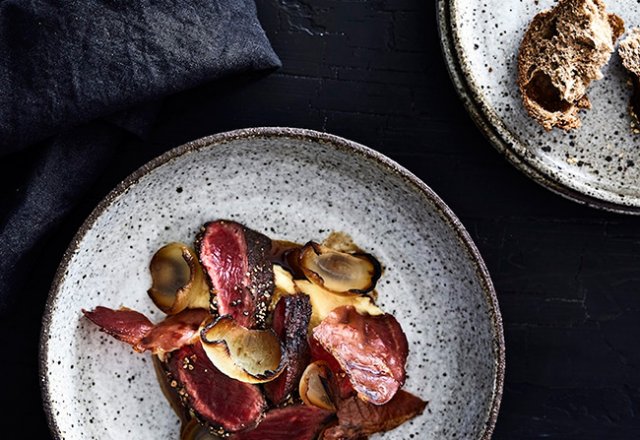 Built on one of Australia's oldest settlements, hidden in Tasmania's remote East Coast, the recently refurbished Piermont Homestead is situated in a sanctuary of understated luxury. We speak to head chef Chad Woodford about Tasmanian produce and working on the stunning Freycinet Penninsula.
Can you tell us a little bit about yourself and about the Piermont Homestead Restaurant?
After falling in love with food at an early age, I decided to travel through Europe. But after five years overseas, owning my own bar and pub, I missed my family and returned to Australia. After working in a vineyard in Victoria, I wanted to go back home to Tasmania to work on the beautiful east coast. I have been at Piermont Homestead Restaurant for the last six years and still enjoy going to work every day – it's an astonishing place to work. We are located opposite the Freycinet Peninsula, in between a handful of successful wineries – it's a place made for people who would like to escape from reality for a weekend or a week. The restaurant represents this as well: a relaxing atmosphere for a drink or a meal while taking in the beautiful scenery or unwinding in front of the fireplace in the colder months. Expect a rustic fine-dining style with dishes made exclusively with Tasmanian produce.
Can you tell us about some of the local produce you work with at the restaurant?
Melshell Oysters is my supplier for local oysters. They are always fresh and of great size – so these are a favourite of many of our guests. The Long Name Farm provides the whole pigs I use over summer. Many of the wines of the local vineyards are present on our wine list: sparkling wines, light and fruity sauvignon blancs and easy-drinking pinot noirs from Spring Vale vineyard, Milton, Kelvedon and Freycinet.

What do you love/what do you believe is different about Tasmanian produce?
Being a small state, Tasmanian produce doesn't need to be freighted across the state. The distance between the suppliers and restaurateurs is maximum 150 kilometres, which keeps the food at its freshest. Also, a lot of regions grow their own unique crops, which they've become renowned for all over the state and the mainland. The fruit in the Huon Valley, for example. You know the produce is top of the range and can be used in the best restaurants. Tasmania offers crisp and unspoiled fruit, vegetables, meats and fish.

The restaurant has recently undergone a stylish refurbishment. Is this fresh look and feel reflected in the menu? If so, how?
I try to match my menu with the look of the restaurant and seasons. The light, fresh and seasonal style reflects in using seasonal ingredients (such as scallops) from around the corner.
What do you believe your signature/standout dishes are?
Definitely the Tasmanian pan-seared scallops with du puy lentils, cauliflower puree and crispy bacon; and the pepper-crusted kangaroo with roasted garlic mashed potato, caramelised onion and jus [pictured].

What is your favourite Tasmanian wine?
The Bend Cabernet Sauvignon. Being a small local producer, I know he puts a lot of effort and love in his wines. This particular cabernet sauvignon is an easy-drinking wine that matches beautifully with every type of red meat.

Finish this sentence: Piermont Homestead is the best place to…
take in the astonishing scenery of the Freycinet National Park, and to relax and forget about everything while enjoying a wonderful Tasmanian meal with great service.
Photography by Sharyn Cairns.
Located at 12990 Tasman Hwy, Swansea TAS 7190.
For bookings, visit official website.