Lemon & honey baked lamb with Sicilian olives & herbs
Lemon & honey baked lamb with Sicilian olives & herbs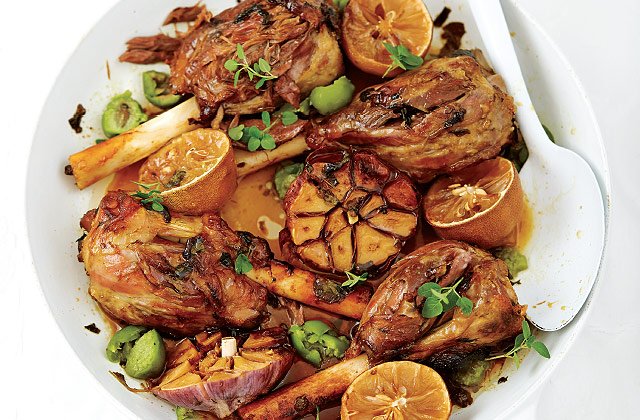 These slow-cooked lamb shanks with Sicilian olives & herbs are the perfect winter warmer. Serve with roasted veg or a winter salad.
Ingredients (Serves 4)
1.2 kg lamb shanks, approx. 6
2 lemons, halved
1 whole bulb garlic, sliced in half widthways
3 tbs honey
3 tbs apple cider vinegar
1 bunch oregano
10 green Sicilian olives, crushed
Salt and cracked pepper
Extra honey to serve
Method
Pre-heat an oven to 180°C. Using a large, heavy-based frypan or shallow pot, add the lamb shanks, lemons and garlic then drizzle with honey and vinegar. Tear half of the oregano bunch on top and cover tightly with a lid, cooking for 30 minutes at 180ºC.
Lower temperature to 100ºC and cook for two hours, until the lamb is tender and falling off the bone. Uncover and cook for a further half hour to allow the garlic and lemons to crisp.
Add olives, fresh oregano, salt and pepper and drizzle with honey before serving. Great served with roasted vegetables or a winter salad.
Recipe from Gemma Lush; photo credit: Phu Tang