In the kitchen with Luke Hines
In the kitchen with Luke Hines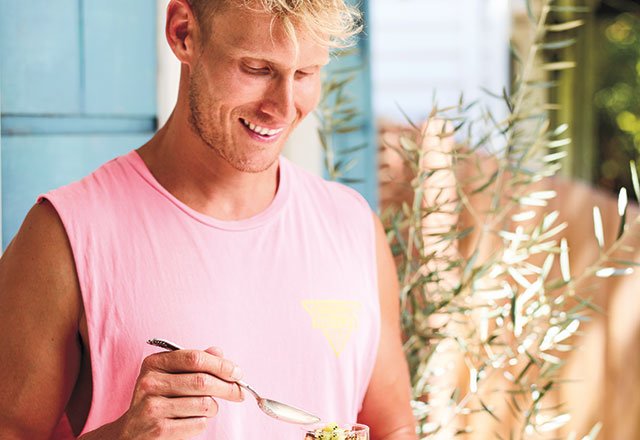 We caught up with Luke Hines to talk all things eating healthy, paleo and training for spring.
This issue of nourish magazine is all about celebrating the end of winter and giving our diets a 'spring clean'. Do your habits change much from winter to warmer seasons? If yes, how?

Totally. I love eating seasonally. Each season has its own delicious and unique produce and celebrated styles of cooking. So for me it's about transitioning from slow cooked rich meat and vegetable based dishes – like beef cheeks and lamb shanks – to fresh, crisp and grilled food! Spring brings to mind beautiful grilled skewers with a vibrant salad of crisp garden greens and some just-cooked broccolini or asparagus with butter. I always believe my plate is brighter in spring and summer with the wide array of colourful options available to us.
Winter is notorious for seasonal weight gain. Do you have any recommendations for getting back on track, even though it's still cold and dark in early spring?

I think keeping ourselves warm in winter with extra-large portion sizes, combined with weather that naturally makes us a little more sedentary, is common for everyone. This can result in a little extra baggage over winter. The good news is: it can be as easy losing it as it was gaining it. I would suggest looking at your serving sizes, as research has shown that without introducing exercise, you can reduce your body fat considerably by simply being mindful of how much you're eating. I encourage people to become intuitive eaters, which means you eat when you're hungry and stop when you're full, and this is easy when you simply eat real food. Exercise is the added bonus! But it all starts with food.
Tell us, honestly, do you think looking great is a big motivator for eating well? As well as feeling great?

It's an important topic. Whenever I post to social media or do a talk or demo, in the back of my mind I try not to focus too heavily on one or the other. I think both looking great and feeling great go hand in hand, and ideally we should be striving for both – they support each other. When we eat well, we feel better inside, and generally have a better outlook on life and an increase in self-esteem. Equally, when we look better, we tend to feel healthier, and make healthier choices because we can see the commitment is paying off. I always encourage people to focus on the inside, with how you feel and your gut health, and then the outside surface stuff will follow naturally.
How do you think your food philosophy (paleo-ish) helps you look your best?

Haha, paleo-ish! I am glad you said it and not me. Look, am I paleo? Yes. Do I eat non-paleo food on occasion? Of course! I see my own food philosophy evolving at the moment where, as opposed to feeling restricted, I simply want to enjoy the foods that work for me – and encourage others to do the same. We celebrate a wonderful thing called bio-individuality – meaning we are all unique and, therefore, there is no such thing as a one-size-fits-all approach. I believe that eliminating foods that cause us harm and celebrating those that work for us as individuals is the key, and I certainly think this is keeping my overall health in check!
Why are easy, healthy eats important to you?

I'm super glad you asked. When talking with my amazing publishing team, a lot of the positive feedback from Eat Clean was based around how realistic and achievable the recipes all were, which inspired me to take them a step even further in this direction for my next book. I don't ever want time or lack of cooking skill to get in the way of someone changing their life for the better, which is why Healthy Made Easy is so close to my heart. Anyone can pick it up and make a positive change with real food.
Grab the September 2017 issue of nourish for some of Luke's delicious recipes and the full story.