Charred vegetables & smoky hummus
Charred vegetables & smoky hummus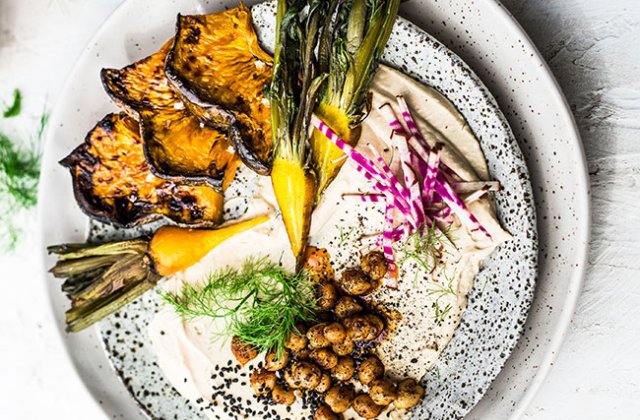 If you haven't used liquid smoke before, you're in for a real treat. You can find it at most specialty grocers, and it adds an amazing BBQ flavour to sauces, meats, soups and more. A little goes a long way
Ingredients
2–3 golden beetroots
3 slices Kent pumpkin
½ cup drained chickpeas
2 tsp chipotle spice
Black salt or sesame seeds (to garnish)
1 target beetroot, cut into matchsticks (garnish)
Olive oil spray
Hummus
1 tin chickpeas, drained (liquid reserved)
⅛ cup lemon juice
1 tsp liquid smoke (optional)
2 tbsp tahini
2 garlic cloves, crushed
1 tsp sea salt
2 tbsp extra-virgin olive oil
Method
Wash the golden beets and wrap them in foil, then add to a medium grill. Depending on the size of your beets, they can take anywhere between 20 minutes and an hour to cook through.
Test regularly with a knife to see if it slides into the centre easily.
Spray the slices of pumpkin with olive oil and add to the grill, cooking until soft and golden.
Meanwhile, make the hummus by combining the chickpeas, lemon juice, liquid smoke, tahini, crushed garlic and salt in a blender or food processor. Add ¼ cup of the reserved liquid from the chickpeas. Slowly add the oil, blending until smooth.
Spread the hummus onto a platter, and top with the cooked beet and pumpkin.
Finally, add the 1/2 cup chickpeas with a little olive oil into a hot pan, along with the chipotle spice. Fry over a high heat for 3 to 4 minutes until the chickpeas are golden.
Tip the chickpeas and chipotle-infused oil onto the platter, and finish with beetroot matchsticks for crunch.
Recipe by Sally O'Neil - The Fit Foodie.