Anna Polyviou's advice for aspiring pastry chefs
Anna Polyviou's advice for aspiring pastry chefs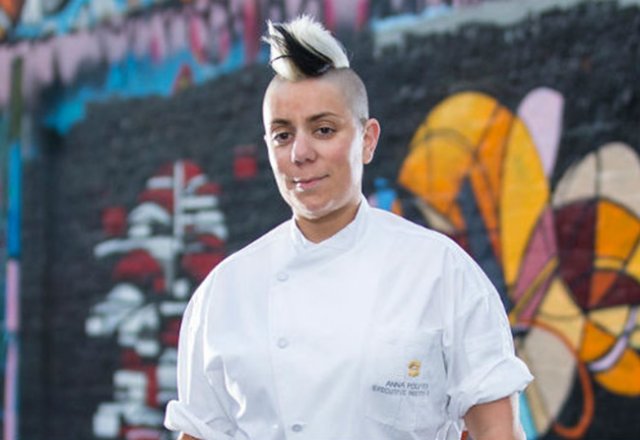 We caught up with punk rock princess of pastry to talk about her move into pastry, her cooking style and aspiring words for wanna-be pastry chefs.
For those who don't know you, how would you describe your culinary style?
Food is a big thing for me, especially creating and understanding the dish from a visual aspect – it's not just about the actual product, it is the ambience around it. For me it is the look, of the desserts and myself, that creates the experience. My stuff is kind of cool, quite funky, and I have the style to go with it. It's about bringing people into your world and giving them a fun experience – that is what food is all about for me now.
What was it that drew you to pastry/sweet stuff in the first place?
I worked as a kitchen chef and then I got into pastry, and I just love the, the discipline of it. I love the fact that everything has to be perfect, or it won't work. Plus, dessert is kind of like the grand finale of a meal – it leaves a lasting impression. If you get a bad dessert the whole meal is just tainted. If you get it spot on then you won't forget about it. I think we (pastry chefs) are like rock stars, because we are creating the finale of every dish.
What advice would you give to people who want to try making sweets and pastry at home?
You know what, just go really simple – baby steps. If they join the Kenwood kClub, people can follow the recipes I'm creating and products I use to focus on really basic stuff. Not too many steps, going slow, like making churros, or a simple cake. Keep it very simple such as bread and butter puddings. When I cook for myself at home it's about simplicity too – I don't go too manic. But what's most important to me is that home cooks use good food and seasonal produce.
For Anna Polyviou's full story and exclusive recipes, grab the July 2016 issue of nourish magazine.