Tea trends for 2015
Exotic blends are making headlines in Australia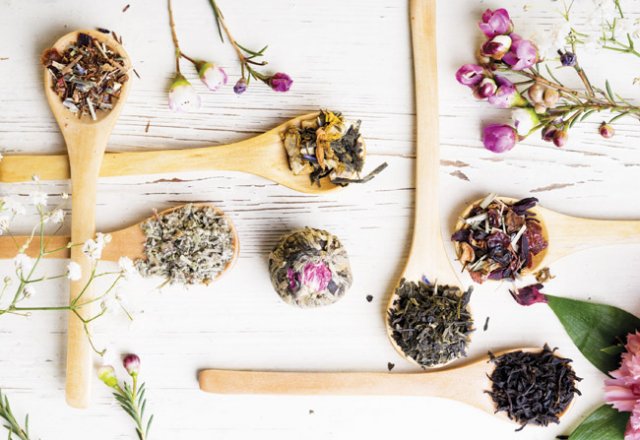 In a country largely reliant on coffee for its early-morning energy boost, there's an ancient brew that's gaining popularity thanks to its reported health benefits and variety of flavour offerings.
While Australians are estimated to have spent $798 million on at-home coffee consumption last year, it's the humble cup of tea that's experiencing a steady growth in popularity, responsible for supermarket registers clocking up a projected $473 million in sales throughout 2013, a boost of almost $5 million in six years according to Datamonitor's Hot Drinks report.
While black tea is a long-time favourite among loyal tea drinkers, it's fruit infusions, herbal tisanes and green tea varieties that are creating the most excitement among manufacturers and retailers, with a five per cent extra spend seen in the decade proceeding 2000 – a statistic that is only expected to grow according to Australasian Specialty Tea Association spokesperson Sarah Cowell.
"It's an exciting time for tea in Australia – growing murmurs that tea is the next big thing are emanating from those with their finger on the pulse," Cowell says. "New tea businesses are popping up, but not your traditional tea shops… The new wave, largely driven by the 20s and 40s demographic, is getting creative: A punk-influenced tea bar, late-night lounge tea parlour, tea-themed musical performance, tea classes and tea TV are just a taste of what is emerging."
Where Tea Comes From

While herbal tisanes may be taking up more space on the supermarket shelf than in years past, ask any tea sommelier and you will discover it's only leaves derived from the Camellia sinensis plant that can officially make up the drink commonly referred to as tea.
From traditional black to green and white, each began life as the same green leaf. It's the technique used within the production process that deems how this leaf will be made into a particular tea variety. It also requires skill and talent to make the best drinking teas, from a detailed process that involves withering, rolling, roll breaking, fermentation or oxidisation and firing or baking. It is only when these steps are carefully followed that the processed leaves may be sorted and graded, ready for packaging and sale.
Wellness in a Cup
Australasia's booming interest in health and wellness may have created extra interest in tea, believe some experts, who say awareness around the ill effects of sugar-laden soft drinks is prompting consumers to reach for a comforting cuppa instead. Recent research has shown tea polyphenols, which are present in the Camellia sinensis plant, are thought to mimic insulin, giving diabetes type-I sufferers a dose of hope in their daily brew.
Tea is also said to help reduce the risk of cancer, with its polyphenols neutralising chemical carcinogens while detoxifying enzymes.
Naturopath, herbalist and founder of the Byron Bay Tea Company, Sarita Merlo, says Australian and New Zealand consumers have become more adventurous with their tea drinking and agrees many are choosing their beverage on the basis of good health.
"We can see that consumers are a lot more health conscious when it comes to making choices about what they put into their bodies, and embracing beverages that not only taste good, but are natural and have some real health benefits without the nasties of pesticides, additives and flavourings," she says.
Merlo, who created a therapeutic blend for one of Australia's leading wellness retreats, Gwinganna, says she looked to the Aborigines and the country's native flora to create a blend of lemon myrtle and aniseed myrtle to support general health and wellbeing.
Tea Down Under
It was for this purpose that Australia's indigenous tribes also drank tea, a health-supporting steep derived from what's today known as the Australian tea tree or 'ti tree' (Leptospermum laevigatum).
It was British colonisation in 1788 that introduced black tea, derived from the Camellia sinensis plant. It took almost a century for the first commercial tea plantation to open its doors. At the same time, tea entrepreneur Alfred Bushell gifted Queensland with Australia's first tea shop. In 1889, the business relocated to Sydney, resulting in the foundation of the country's first tea seller, Bushells.
"It's interesting, in the UK there's a big demand for decaffeinated tea, (but) not in Australia," says Susan Castle, director of Marketing Strategy and Development at award-winning coffee and tea manufacturer, Bean Alliance. "If we're looking to reduce our caffeine, we drink less coffee and choose a herbal tea... Aussies still love their English – and stronger still – Irish breakfast varietals, but there's no denying that green tea, with its great publicity, is a winner with Aussies."
Tisanes for Two
Traditional tea producers are catering to the consumer's newfound penchant for wellbeing blends, branching out beyond the camellia sinensis, offering consumers organic herbal tisanes from sleep-inducing camomile to antioxidant-rich rooibos.
One of Australasia's most popular tea brands, Dilmah – known widely for its ethical growing, production and business practices – recently launched an organic herbal range across the ditch featuring chamomile, rooibos, fruit and mint and berry infusions to meet the rising demand for hot herbal brews in New Zealand. Yet their mindfulness of good health and environmental responsibility goes beyond organics with their extensive range of Ceylon teas known as one of the cleanest in the world, endorsed under the strict criteria set by the International Tea Council.
The ABC of Ethical Tea
Groups such as the Ethical Tea Partnership keep a close eye on the world's tea producers, ensuring manufacturers follow environmental guidelines from soil conservation and energy use to waste management and water conservation as well as remain free of child labour, discrimination and follow health and safety standards.
Yet there are also tea companies that don't rely on governing bodies, instead leading by example through environmentally responsible growing methods while funnelling a percentage of profits back to the community where the tea is grown and produced to help those who need it most.
"(Our) profits are retained in Sri Lanka and are reinvested to improve living standards among tea estate workers and the community at large through the MJF (Merrill J. Fernando) Foundation," says Dilmah New Zealand's tea ambassador Jon Houldsworth.
"A simple but inescapable fact is that every product should be fairly traded," he adds. "Eliminating middlemen and giving the producer access to markets would result in ethical and fairly traded products being offered to consumers without any premium and with the right quality. In eliminating the middleman, Dilmah Tea can offer consumers a better quality product; benefit the growers, their industry and its future and the economy of Sri Lanka…The company's founder, Merrill J. Fernando, believes that conservation is ultimately about people and the future of the human race, and that efforts in conservation have associated human wellbeing and poverty reduction outcomes."
However, it's not just bigger companies that are conscious of how their business gives back. Organic tea company Pukka, which boasts 27 herbal blends based on ancient Ayurvedic healing principles, also takes its social responsibility seriously, seeding more than 20 million plants and trees each year while investing in reforestation programs. It also commits to sourcing only ethically produced herbs from conscious growers.
Beverage company employees are also taking their part in the bigger picture seriously.
"I believe that with a leadership role in a company comes a responsibility to take care to do the right thing," says Bean Alliance's Castle, who created Bean Ground & Drunk, Woolworths' top seller within the sustainable segment. Within her company, she says such leadership "translates to Fairtrade, Rainforest Alliance, Certified Organic, Australian, Ethical Tea Partnership, Australian Made, Swiss Water Method Decaffeinated as well as education and fundraising support in all ventures."
She adds: "Due to my personal circumstances and the outrageous volume of domestic violence in our community last year, I developed a partnership between the business and White Ribbon Australia."
Tea Trends
Beyond organics and herbal wellness blends, tea has also become the centre of attention thanks to a renewed interest in high teas, where bite-sized eats accompany high-end tea selections served in fine china, as well as the more recent trend of tea and food matching, as well as using a variety of teas in food preparation.
The popularity of coffee-making machines has also piqued the interest of tea manufacturers and drinkers alike, with tea capsules showing up alongside coffee pods on supermarket shelves.
Fair Dinkum Brews
Of all the beverages in the world, it's tea and coffee that are highest on the "fair trade" list for concerned consumers. With small family farms often responsible for growing and harvesting the majority of the world's leaves and beans, Fairtrade Foundation standards are said give security to the farmers, ensuring they will earn return that at least covers the cost of sustainable production. Yet, there are also opposers to the certification processes, with many in the coffee industry believing fair trade programs don't live up to their promise of reducing poverty. Popular health-focussed and ethically minded supermarket chain Whole Foods Market, until very recently, declined to sell fair trade certified products due to this.

Next: Poached pairs in lemongrass and ginger tea
Words Shannon Dunn.