Macadamia nuts: a nutritional powerhouse
Macadamia nuts: a nutritional powerhouse
One of the richest sources of heart-healthy monounsaturated fats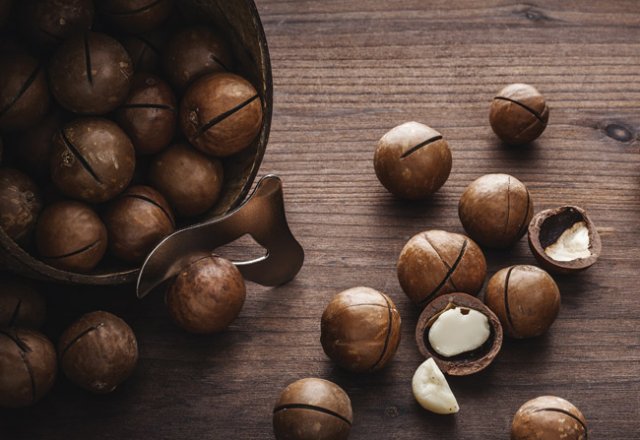 No nut is more quintessentially Australian than the macadamia.
Native to Queensland and the northern New South Wales coast, the tropical tree fruit is a symbol of Australia's lush landscapes, sun-drenched beaches and sultry summer nights.
As the leading producer of macadamias in the world – supplying more than 30 per cent of the global demand – macadamias are the country's third largest horticultural export and the Australian macadamia industry is now worth more than $200 million annually.
Health benefits of macadamia nuts
The benefits of macadamias are not only economic. The tasty tree nut is not only revered as one of the most delicious, but also has a host of health benefits.
Macadamias are one of the richest sources of heart-healthy monounsaturated fats and contain a low proportion of saturated fats.
They are also packed with vitamins, minerals and antioxidants. Just a handful of macadamias a day (about 15 nuts) will provide essential nutrients such as thiamine, manganese, magnesium, iron and copper.
Macadamia oil
Macadamia oil can also be used topically for a range of beauty benefits thanks to its high levels of palmitoleic acid, a powerful antioxidant that supports healthy cell membranes and healing, and hydrates the skin. Rub macadamia oil directly onto scars, sunburn or dry patches to soothe and moisturise, or add it to facial scrubs and masks to nourish, protect and give your skin a natural glow.
Macadamias are available all year round, but because they contain a high level of oil, they must be stored carefully to minimise exposure to oxygen and moisture. If available, vacuum-packed macadamias are the best choice. Alternatively, look for macadamias that are plump, crunchy and light coloured. Refrigerate unopened nuts in an air-tight container for up to six months or freeze for up to 12 months. Once opened, store in an airtight container, refrigerate and use within two months.

NEXT: Try making Macadamia milk, treat yourself to some Macadamia bliss balls or try a delicious Chicken, macadamia & green veg pesto pasta