The Chia Co
Australia's first sustainable chia farm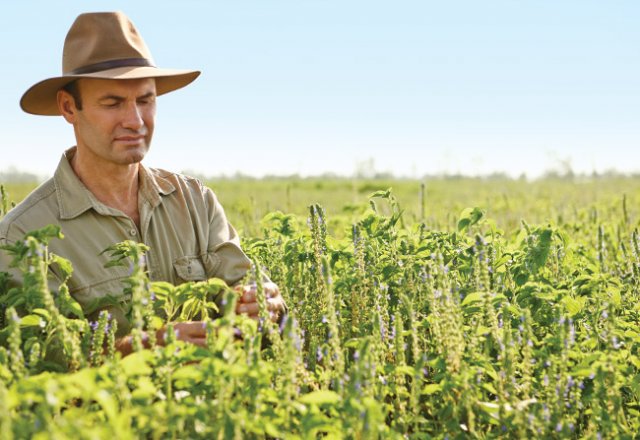 Consumer demand for natural, healthy and non-animal sourced ingredients is on the rise. This is where chia steps up to the plate, writes Anji Bignell.
Chia may have recently been deemed a 'super food' and the meteoric rise of its popularity has seen it feature in a myriad of health food products in the last few years – but it is not a new health food. In fact, chia is one of the oldest crops, having been cultivated for centuries by the Aztec tribes in Mexico, who were well aware of its nutritional benefits.
Making Change
Australian farmer and The Chia Co CEO John Foss saw its potential many years ago and made it his mission to bring it to Australian shelves. Foss was born and raised to grow wheat, but after studying business and marketing, he wanted to develop better agricultural techniques and farming methods within Australia. So through an agricultural scholarship, he travelled the world looking at the trends in agriculture within South America and the UK.
"I came back (from travelling) clear that I wanted to make a change," Foss says. "The trend I identified was in health and wellness. Consumers were looking for healthier products and governments were looking to encourage healthier eating. This had gained momentum – and I wanted to participate. I spent a lot of time travelling that year thinking about how I was going to spend the rest of my business degree and came away determined to make a change and have a positive impact on health and wellbeing."
What he also found was that a small group of Mexicans who were eating a predominantly processed, Western diet, were also drinking a Mexican lemonade called Chia Fresca – chia seeds with lemon. This particular group of Mexicans suffered from less disease and obesity than their American counterparts. The key nutrient seemed to be the chia seeds.
Foss was intrigued. "I spent some time, got samples, analysed them and it was clear that the richest combined source of omega-3 was in chia. It's the only grain that you can obtain the nutrients from without having to process it," he says.
"It doesn't need grinding, cooking or milling, so you can eat whole chia seeds and get the nutrition. So I started to ask questions: 'Why aren't food companies using chia seeds? Why isn't it on the shelves in health food stores or supermarkets?' And really the answer was that there was no one dedicated to growing a sustainable source."
There were just small pockets of chia farming around the world, but no one had really committed to gaining consistency in the nutritional content. Foss started his research on chia – trekking through Central and South America, studying samples, and then set about establishing a chia company.
The Best Conditions
Chia originated in South America, where the climate and conditions are ideal for maximising omega-3 content within each seed.
Foss literally got his map out and realised this latitude ran through the town of Kununurra, in the Pilbara region of Western Australia. He then partnered with local farmers in the area to grow the new crop. The farmers were keen to look at different varieties since they had been through a year of growing sugar, and the sugar industry was competing against the world's sugar market making it an unprofitable business in Australia. They were also looking for a sustainable crop that could make a difference to peoples' health.
And so was born The Chia Co – Australia's first sustainable chia farm and the world's largest producer of premium-quality chia seeds. Chia seeds are sun-ripened, and require no chemicals to ward off pests (the flowers are related to mint, which makes it a natural deterrent to insects).
The use of clean and pure technology to test batches and grow this crop makes it the obvious choice for sustainable agriculture. And if the environmental factors weren't enough to make you believe all the superfood hype – adding just one tablespoon of chia to your daily diet delivers three grams of omega-3 ALA and six grams of dietary fibre – not to mention protein and a wide range of vitamins and antioxidants.