3 ways to make your kitchen your happy place
3 ways to make your kitchen your happy place
Kitchen feng shui is a thing.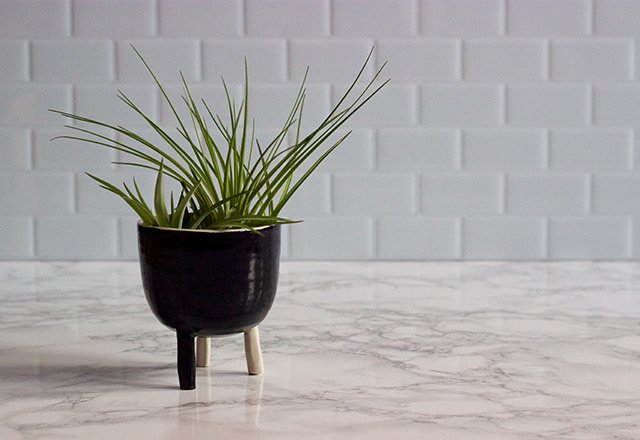 Lisa O'Neill shows us how to effortlessly turn your bench top into a creative, stylish space.
De-cluttering your bench top
We tend to love the convenience of keeping things on the kitchen bench: a bowl of fruit, another for spare change, a kettle, a toaster, a juicer and a jaffle iron. Then somehow your olive oil and oft-used spices have gone from cameo appearances to starring roles, and the actual food preparation area has evaporated to something barely useable.
"The main issue I have with my clients is the abundance of items in the kitchen and particularly the bench top, which really blocks the flow," Kertesz says.
Firstly, consider how often the item is being used (once a month or even weekly should not grant an item prime real estate) before allocating it some cupboard space if it's a regularly used appliance or food.
If space is limited, there are plenty of storage solutions available from stores that can help open up new options such as hanging racks behind pantry doors for oils and spices.
While de-cluttering, if you find barely used products, acknowledge the purpose they served in the past with gratitude and move them on. The extra space created from the departure of unused appliances will feel luxurious once you've let go.
How to work with limited space
If your kitchen bench is on the smaller side and cupboard space limited even once you've de-cluttered, there are still ways you can increase the functionality and aesthetics. Home stylist Suzanne Bellerby suggests installing hanging rails for any lingering bench dwellers such as pretty mugs or cups, which can become a feature as well as serving a purpose.
Another way to maximise space is to buy a large chopping board designed to sit over your cooktop, which instantly creates a new food preparation space. Or, if you have a particularly unattractive kitchen bench, we love the huge recycled timber chopping boards from Tasmanian company Endemic Design (endemicdesign.com.au) that can provide a functional surface while acting as a permanent decorative feature – bye bye, ugly bench top!
Colour coordinate
One of the easiest (and cheapest) ways to spruce up the look of your kitchen is to throw the aged and mismatching utensils you've collected over the years and replace them with a matching set. Bellerby suggests matching a new utensil collection to a favourite cushion to create some synchronicity throughout your home, or if you have a particularly fabulous tea towel, match it to that.
"Think of a beautiful tea towel as a piece of art, as they're always on display in your kitchen and often remind you of a holiday or perhaps it's something your child helped create," Bellerby says. "Such a simple, inexpensive item for your kitchen that is functional and fun, and it can then set the tone for your colour scheme."
For more creative kitchen space ideas, grab the September 2016 edition of nourish magazine.