Hot plate: Mjr Tom
Discovering some of the finest in Melbourne's north.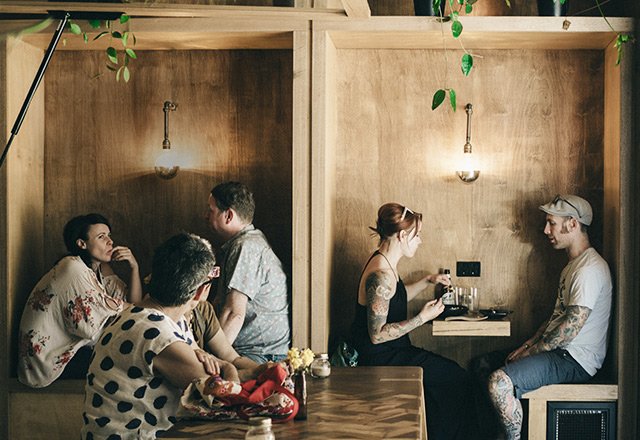 We spoke to owner Nick Tiktikakis about modern Spanish cuisine, the importance of design and paying homage to David Bowie.
Tell us a little about yourself and about Mjr Tom?
We had been talking about Mjr Tom and an all-day dining concept since 2011 and vigorously sought a location in the Collingwood, Fitzroy area. We stumbled across a rundown old Turkish restaurant and visualised a space that could transform from day to night and from front to back.
How would you describe your menu?
Modern Melbourne with a strong Spanish accent.
What would you say sets Mjr Tom apart from other cafes/restaurants?
All-day dining offering original contemporary food prepared by passionate chefs in an award-winning designed venue.
Why was a beautiful and unique fit-out important to you when you decided to open the restaurant?
We wanted to create something beautiful that had not been done before. We employed Brolly Studios to assist us with our dream and they've nailed the brief, using natural materials such as blonde wood and framed corrugated iron to create something unique.
The food at Mjr Tom has frequently had a Spanish influence; what do you love about Spanish cuisine?
Sam Kearney, our head chef, lived in Spain for three years and worked in some of Madrid's wonderful tapas restaurants. He brought back some great ideas that inspired us to create Mjr Tom. Essentially we love the honesty of the cuisine; it's simple, fresh and full of flavour.
So your latest menu is partially inspired by chef Sam's travels overseas; can you tell us about some of the fresh tastes and ideas he's brought to Mjr Tom?
Sam has worked very hard alongside his sous chef Toby Marks (ex Gingerboy) on keeping the menu authentic yet modern. Their creativity has seen dishes like our Roasted Banana with Bacon Lardons (smoked scarmorza, arepa, tomato marmalade, Brazil nut shavings, chilli and coriander salsa), our Fish Taco (huitlacoche, corn salsa, guasacaca sauce, corn salt) and our Pumpkin Bunuelos (goat's cheese ice cream, almond praline and ponzu caramel).
I understand the name is homage to David Bowie's 'Ground Control to Major Tom' – can you explain a little more about how this song/Bowie has inspired you?
Smith Street has long been associated with intoxicated adventures and cutting-edge rock bands, although it has gentrified somewhat in recent times. We love Bowie and the rest is history.
Do you have any options on the menu for health-conscious diners?
All dietary requirements are catered for at Mjr Tom.
Will you have a winter menu? If so, what can diners expect?
Sam and Toby love using seasonal produce. Winter actually excites them: there's chestnuts, foraged mushrooms, braised meats, root vegetables, citrus fruit, handmade sausages, the list goes on.
Finish this sentence: Mjr Tom is the best place to…Woo your date.
108 Smith St, Collingwood (Melbourne).
Discover their delicious eats on their Instagram @mjrtomcollingwood.