Healthy, healing spices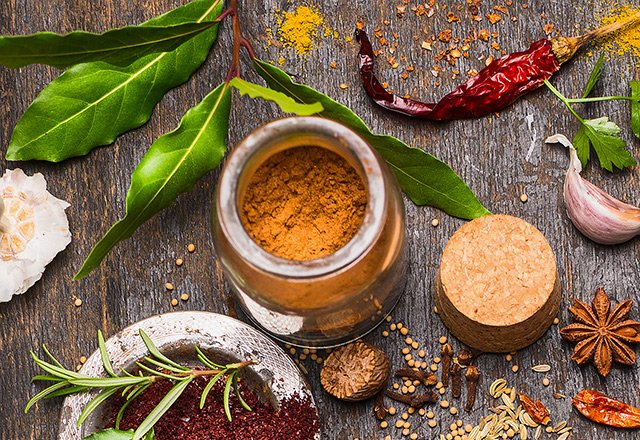 Lola Berry helps us explore our spice cupboard for healing properties and natural remedies.
Although we think of spices as a means of adding flavour and creative flair to our food, they have been used traditionally not just in cooking but also for their remarkable medicinal qualities. Some spices – such as turmeric, which has been in the spotlight recently for its anti-inflammatory benefits – are more renowned for their healthful qualities than others, but some real gems lie among the lesser-understood medicinal spices too. Here are a few of my favourites:
Ginger: There's so much more to ginger than baking gingerbread cookies (as brilliant as they are). This warming spice has been used for yonks as an immune booster, and that's thanks to the antiseptic volatile oils, which help to combat colds, tonsillitis, bronchitis and digestive infections. They say you can chew on fresh ginger to help dull the pain of a toothache, too. And it has an ancient reputation of being an aphrodisiac; it's said to turn women into enchantresses. There's an old folk remedy where to reduce high blood pressure ginger was mixed into a paste with cold water and placed on your forehead!
Chillies and the pepper family: There's loads of research done on the warming quality of chillies and how it can help to speed up your metabolic rate. That means it can speed up the rate in which we burn energy off. They have a stimulating effect on the circulatory and immune system. Back in the day, chopped up chillies were placed in woollen socks to prevent a cold and keep your feet warm on cold winter days, and I can confirm I've actually done this in a New York winter.
Mustard seeds: Both white and black mustard seeds have been used as a form of medicine since the earliest times. White was prescribed internally for digestive disorders and externally mixed with vinegar to help draw out inflammation. Mustard seeds have a stimulating and warming effect on the body, so have been used in the winter months to help ward off colds and flu. It is believed that they also help to enhance digestion and absorption.
Cinnamon: This would have to be one of my favourite spices. It helps to balance blood sugar levels, so if you've got a sweet tooth like me, just by adding cinnamon to your creation you can help prevent those sweet cravings. A hot drink of cinnamon is said to stimulate circulation and can stimulate sweating, which can help with colds and infections. It also warms and stimulates the digestive system and helps to calm nausea. It can be used topically too as it has antiseptic qualities, so it can be applied to cuts, wounds, bites and stings. And did you know that there was a time that cinnamon was more valuable than gold? So it must be pretty special.
Spices may be only used by the sprinkle or spoonful, but they are mighty! This is a beautiful porridge that will bring a bit of magic to your morning. It's so satisfying and nourishing, too. You can substitute the pecans with pretty much any nut. Try walnuts, pistachios, almonds or macadamias. Make up a double batch and keep them for snacks and for toppings on yoghurt, muffins and cakes, as well as porridge. (To be honest, I tend not to make big batches – I might eat them all!)