Chicken with pomegranate molasses
Chicken with pomegranate molasses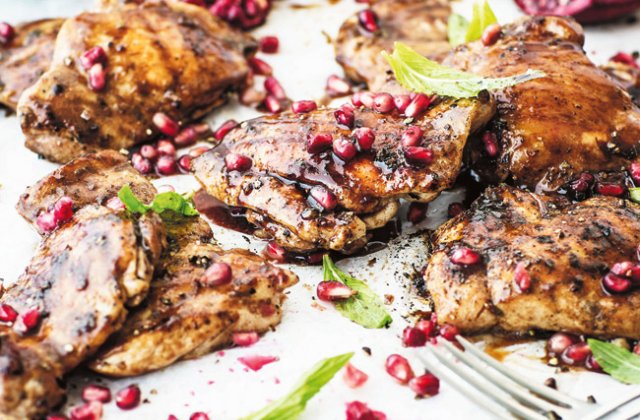 We love the sweet and tangy flavour of pomegranate molasses with chicken.
Ingredients (serves 4 to 6)
12 free-range skinless chicken thigh fillets, trimmed of excess fat
Mint and pomegranate seeds, to serve
Pomegranate molasses marinade
2 tbsp olive oil
1⁄3 cup pomegranate molasses
Juice of 1 lemon
3 large cloves garlic, finely chopped
2 tbsp Dijon mustard
2 tbsp sherry vinegar
2 sprigs fresh mint, leaves picked and finely chopped
Sea salt
Freshly ground black pepper

Method
For the marinade, place all the ingredients in a jug or bowl and whisk to combine. Pour into a large zip-lock plastic bag, add the chicken thighs, then seal and shake to combine.
Marinate in the fridge for at least six hours (or overnight if possible).
Heat a chargrill pan or barbecue flat plate over medium–high heat until hot.
Working in batches, cook the chicken thighs for five to six minutes on each side until golden brown and cooked through.
Drizzle over some pomegranate molasses, if using, then serve hot, scattered with mint and pomegranate seeds.
Recipe and images by Katie Quinn Davies