Warm soba noodle, edamame and orange salad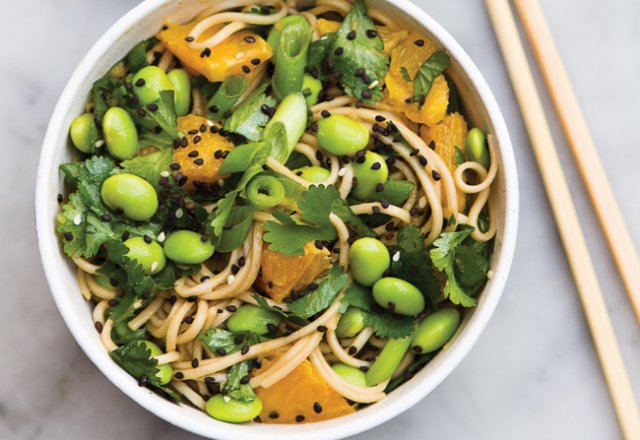 Light, nutritious recipes
Any citrusy fruit can be used here, such as mandarin or blood oranges.
Ingredients (serves 2)
3cm round of dry soba noodles
1½ cups shelled frozen edamame
½ cup chopped coriander leaves, lightly packed
½ cup chopped spring onion, 
lightly packed
2 oranges, peeled and chopped into bite-sized pieces
2 tbsp black sesame seeds
Dressing
½ tbsp miso paste
2 garlic cloves, minced
1 tsp fresh minced ginger
1 tbsp tamari or light soy sauce
⅓ cup grapeseed oil (or other mild flavoured oil)
Juice of 1 lime (or substitute with 
1 tbsp rice wine vinegar)
To serve
Extra chopped fresh herbs
Sesame seeds
Method
To make dressing, combine all ingredients in a screw top jar and set aside.
To make salad, bring two pots of water to the boil. Cook soba noodles according to packet instructions, being careful not to overcook, as they will go gluggy. Boil edamame until tender and bright green. Rinse both in a colander and run just enough cold water through to avoid noodles sticking together, but keep noodles slightly warm.
In a bowl, combine remaining salad ingredients and add cooked soba noodles and edamame. Lightly toss to combine. Mix through half of the dressing, adjusting according to taste. Serve warm and top with extra chopped fresh herbs and sesame seeds.

NOTE: The dressing makes enough for two salads. Store in refrigerator for up to two weeks and the flavours will intensify over time. For this salad, I prefer to buy pre-shelled edamame (soy bean) pods 
as it speeds up the cooking time. These can be found in the frozen section of most Asian supermarkets.
NEXT: Browse more recipes or connect with us on Facebook.
Recipe from Green Cooks; Photo credit: Jessica Symonds
Rate This