Green bean, pea and snowpea salad with tahini dressing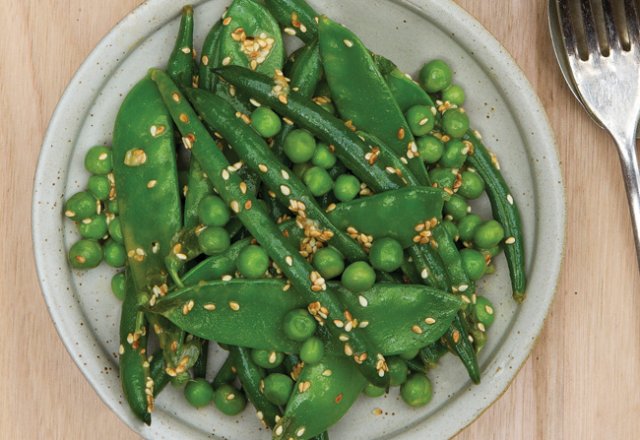 This green bean, pea and snowpea salad is a great do-ahead dish. The dressing will actually improve the longer it sits, so make it up to a day ahead and store in the fridge.
The beans and peas can be blanched, refreshed and placed in the fridge a few hours before serving, just keep the dressing separate until you are ready to serve.
Ingredients (serves 6 as a side)
300g green beans, topped 
and tailed
150g snow peas, topped and tailed and sliced lengthways
1 cup freshly shelled or frozen peas
Dressing
5 tbsp extra virgin olive oil
2 ½ tbsp rice wine vinegar
1 tbsp tamari*
½ tbsp honey
1 tbsp sesame seed oil
1 ½ tbsp tahini
1 clove of garlic, minced
Salt and pepper, to taste
To serve
2 tbsp sesame seeds, toasted
Method
Add dressing ingredients to a small bowl or jug and whisk until well combined.
Fill a large bowl with cold water and add a few ice cubes. Set aside.
Bring a large pot of salted water to the boil, add beans and cook for three minutes. Add snow peas and peas and cook for a further minute. Remove from heat, drain and place in bowl of iced water.
Leave to sit for a few minutes, drain and arrange beans on a serving platter.
Pour over dressing and sprinkle with toasted sesame seeds.
* Tamari is a wheat-free soy sauce found in Asian and most mainstream supermarkets.
NEXT: Warm soba noodle, edamame and orange salad>>
Recipe by Ruth Friedlander; Photo credit: Jessica Symonds
Rate This