Spicy carrot, bean and lemon soup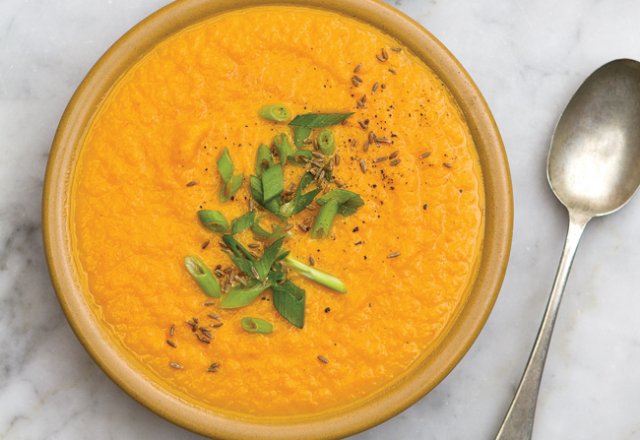 This carrot soup makes for a warming and inexpensive dish that's great to freeze (just omit the coconut cream).
Carrots have been accumulating in the bottom of my fridge drawer over the last few weeks, so it's time to use them up in a sweet and spicy roasted carrot soup.
Ingredients (serves 4)
7-8 medium-sized carrots, peeled
Thumb-sized piece of ginger, 
peeled and grated
1 red chilli, chopped finely
2 tsp cumin seeds
400g can of beans
½ litre of vegetable stock
200ml coconut cream
Juice of one lemon
Salt and pepper, to taste
Glug of olive oil
To serve
Handful of chopped fresh 
spring onion
Extra cumin seeds
Method
Preheat oven to 200oC.
Cut carrots into bite-sized chunks. Place carrots in a roasting dish, drizzle with enough oil to lightly coat. Add ginger, chilli, cumin, salt and pepper and toss to combine. Roast for 45 minutes or until tender and golden. Turn vegetables occasionally to ensure an even roast.
Add carrots, beans and vegetable stock to a large pot, bring to the boil, cover and simmer for five-to-10 minutes until heated through. Remove from heat, add coconut cream and roughly puree with a stick blender. Add extra hot water if a thinner consistency is required. Add lemon juice, salt and pepper to taste.
To serve, top with chopped fresh spring onion and a sprinkle of cumin seeds.
This recipe goes great with the soba noodle salad.
Recipe from Green Cooks; Photo credit: Jessica Symonds

Rate This