Chargrilled corn and black bean salad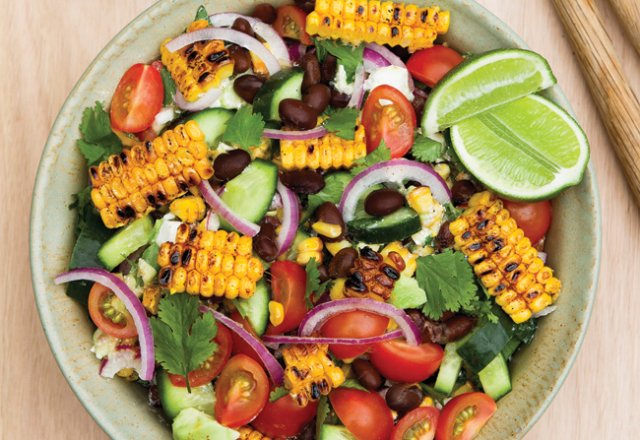 Healthy summer recipes
There is nothing quite like in-season chargrilled corn. A simple ear cooked on a grill pan or barbecue, slathered with butter and seasoned with a squeeze of lime and pinch of salt is a gorgeous way to celebrate summer.
If, however, you are looking to up your corn game, give this side salad a try; spicy, sweet chargrilled corn is paired with all of its favourite friends in the perfect summer barbecue accompaniment.
This salad only gets better if you leave it sitting a while, so you can make it a few hours ahead, stick it in the fridge and forget about it while you prep the rest of your meal.
Ingredients (Serves 6 as a side)
2 ears of corn, shucked
3 tbsp extra virgin olive oil
1 tsp hot smoked paprika
¼ red onion, thinly sliced
1 Lebanese cucumber, quartered lengthwise and chopped
200g cherry tomatoes, quartered
4 slices pickled jalapeno peppers, chopped
400g can black beans, 
drained and rinsed
1 firm, ripe avocado, halved, stone removed, peeled and chopped
100g creamy Danish-style feta, chopped
¾ cup fresh coriander, chopped
3 tbsp lime juice
Sea salt flakes, to taste
Method
Brush corn with two tablespoons of olive oil and sprinkle with paprika. Heat a chargrill pan over a medium-high heat and cook corn for eight to 12 minutes, turning frequently, until kernels are bright yellow and charred. Remove from heat and set aside to cool. Alternatively, corn can be cooked on a preheated barbecue plate or grill.
Place red onion slices in a small bowl of cold water for a few minutes to mellow. Drain and add to a large salad bowl along with cucumber, tomatoes, jalapenos, beans, avocado, feta and coriander.
Use a small, sharp knife to remove corn kernels from the cob. Add to the salad along with lime juice and remaining tablespoon of olive oil. Mix salad and add salt flakes to taste.
NEXT: Soba noodle salad with orange and edamame>>
Rate This