Thai prawn and snow pea salad
5 healthy summer salads
Thai prawn and snow pea salad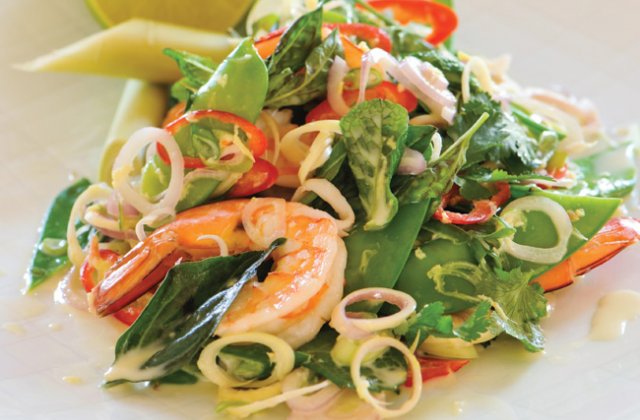 Ingredients (serves 2)
200 g snow peas, topped
1 red chilli, halved and finely sliced
2 shallots, finely sliced
1 lemongrass, finely sliced
2 cm piece ginger, shredded
12 cooked prawns, peeled
Small bunch mint leaves
Large bunch Thai basil or coriander
1 lime cut in wedges or cheeks, to serve
Coconut dressing
150ml coconut cream
1 garlic clove, crushed
4 tsp fish sauce
Juice, 1 lime
1 chilli, finely diced
Method
Steam the snow peas until tender but still bright green. Drain and put in a bowl with the chilli, shallots, lemongrass, prawns and ginger.
Make the dressing. Mix the coconut with the garlic, fish sauce, sugar, lime and chilli. Tear the mint and Thai basil over the prawns and toss everything together.
Pile onto a plate and pour over the dressing. Serve with a squeeze of lime.