Hardcore prawn salad recipe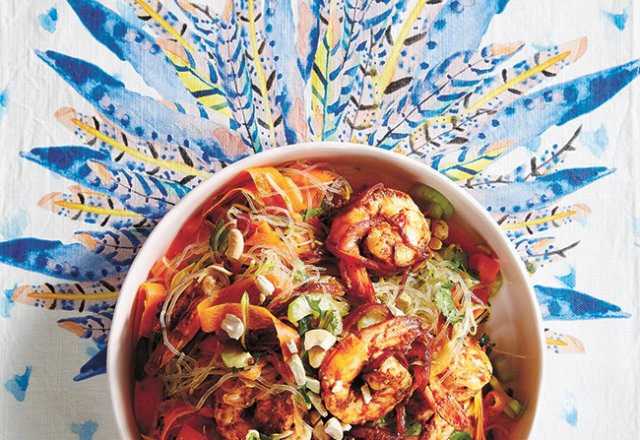 Full of protein and full of flavour.
We can't get enough of Lola Berry's delicious 'hardcore prawn' salad. Perfect for a light lunch, you're sure to get your protein fix with this flavoursome dish.
Ingredients (Serves 6)
3 small red chillies
1 tbsp extra-virgin coconut oil
½ onion, sliced
1 kg raw prawns, peeled and deveined
1 heaped tbsp gluten-free tom yum paste
1 tbsp gluten-free tamarind paste
Freshly ground black pepper
2 carrots, peeled into ribbons
4 celery stalks, finely sliced
1 bunch of coriander (including stalks), chopped
1 large bunch of Vietnamese mint, leaves picked and sliced into thin ribbons
2 small yellow summer squash, grated
Zest and juice of 2 large limes
3–4 tbsp fish sauce
5–8 drops of Stevia or 2 tsp coconut syrup
2–3 tsp sesame oil
200 g bean thread vermicelli or kelp noodles
2 tsp macadamia oil (optional
Handful of crushed cashew nuts, activated if possible
Method
Finely dice two of the small red chillies (reserve the last one for the salad). Heat the coconut oil in a heavy-based frying pan over a medium heat. Add the onion, diced chilli and prawns. Stir in the tom yum paste, tamarind paste and a couple of twists of pepper and cook for 5 minutes, stirring with a wooden spoon. When the prawns are cooked through, remove the pan from the heat and leave to cool.
Combine the carrot, celery, coriander, mint and squash in a large bowl and set aside.
Combine the lime zest and juice, fish sauce, Stevia (or coconut syrup), sesame oil and remaining diced chilli in a small bowl and whisk with a fork. Adjust the flavours to taste.
Prepare the noodles according to the packet instructions and toss through the vegies and the dressing. Add the macadamia oil if desired (sometimes the sesame is all you need).
When the prawns are cool or warm (not hot), toss them through the dressed noodle salad and top with the crushed cashews.
Recipe by Lola Berry.
This recipe was taken from Lola Berry's Summer Food, published by Plum, RRP $24.99.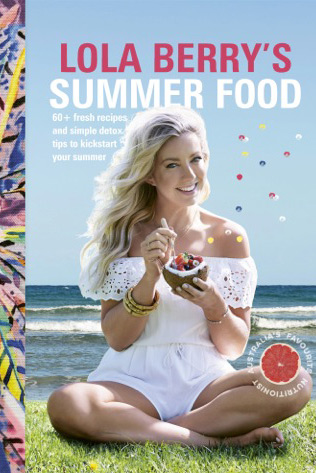 Rate This