Quinoa, avocado and almond salad
5 healthy summer salads
Quinoa, avocado and almond salad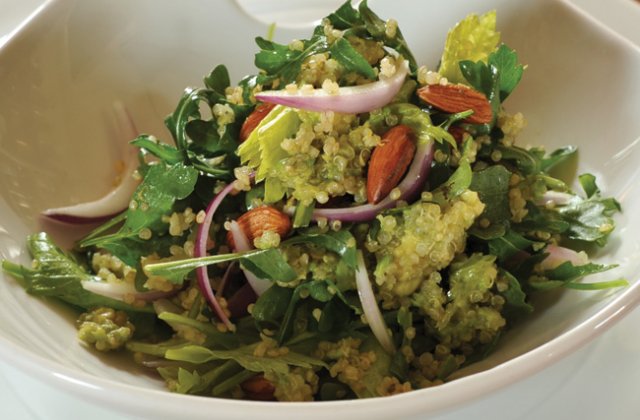 Try a healthy alternative from Trupps' Whole Food Kitchen
Ingredients
½ cup quinoa
1⁄3 cup picked organic flat-leaf parsley leaves
1 organic Lebanese cucumber, diced
1 organic red onion, cut into fine wedges
4 handfuls organic rocket salad
1 large and soft organic avocado (or two small ones)
1 handful freshly shelled organic walnuts
Juice of half an organic lemon
¼ cup of extra-virgin olive oil
Freshly ground pepper
Method
1. Place quinoa and water in a saucepan over high heat, cover with a lid and bring to the boil.
2. Reduce heat to low and simmer until all water has absorbed, which takes around 10 to 15 minutes for 
soaked quinoa.
3. Transfer to a large bowl.
4. Cut the avocado in half and remove the stone. Scrape out the entire avocado flesh place into a bowl and mix with lemon juice, olive oil and pepper. Add all the ingredients to the quinoa and combine well and serve.
Recipe from Trupps' Whole Food Kitchen