Thai pork and sweet potato soup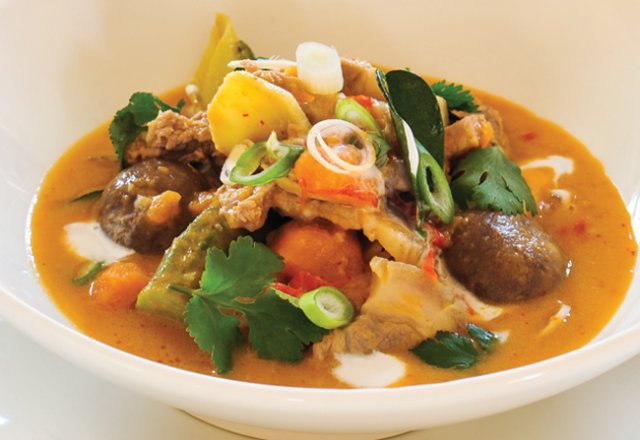 A tasty Thai recipe from Dorota and Walter Trupp.
Ingredients (serves 2)
1 tsp coconut oil
2 garlic cloves, chopped
1 red chilli, deseeded and chopped
2 cm chunk ginger, chopped
1 stalk lemongrass, bashed
1 cup of chopped coriander (including stalks)
2 tbsp red Thai curry paste
500 ml chicken stock
200 ml coconut cream
500 g sweet potatoes, peeled and roughly chopped
200 g organic pork fillet, thinly sliced
1 handful okra, tops cut off
2 handfuls mushrooms
1 tbsp of chopped herbs such as coriander, spring onions or kaffir lime leaves
1 lime, juice only
1 tsp palm sugar
½ tsp fish sauce
Method
Heat the oil in a large saucepan.
Add the pork, garlic, chilli, ginger, lemongrass, coriander stalks and curry paste, and cook for two to three minutes, until the aromas are released.
Add the chicken stock, coconut cream and sweet potatoes and cook for 10 minutes.
Add mushroom and okra and until the potatoes are soft.
Remove the lemongrass and discard.
Stir through the lime juice, sugar and fish sauce, then scatter with the coriander leaves, spring onions, kaffir lime, and serve.
Recipe from Trupp Cooking School.
Browse more healthy recipes or connect with us on Facebook!
Rate This