Sweet potato gnocchi with ricotta and fresh herbs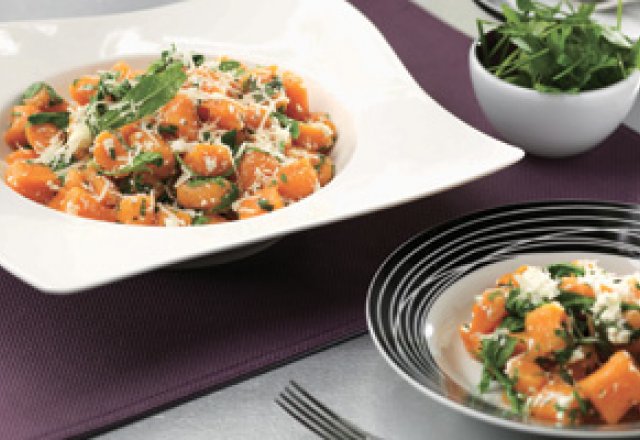 Wheat and gluten-free recipe
Balance your dietary requirements and enjoy great tasting, delicious meals
Ingredients
1kg orange sweet potato (kumara), peeled, cut into 2 cm pieces

Freshly ground black pepper

1¼ cups (200 g) potato flour

²⁄

³

cup (100 g) gluten-free cornflour

1 egg yolk, lightly whisked

Gluten-free cornflour, for dusting

1 cup (50 g) baby rocket leaves

100 g reduced-fat fresh ricotta

1 tbs chopped flat-leaf parsley

1 tbs chopped basil

1 tbs chopped chives

1 garlic clove, crushed

2 tbs extra virgin olive oil

Parmesan, for serving
Method
In a medium-sized saucepan of boiling water, add the sweet potato, then reduce heat to medium. Cover, then cook until just tender. Remove from heat, drain, and transfer to a large heatproof bowl.
Using a potato masher, mash the sweet potato until completely smooth. Season with pepper. In a small bowl combine flours, mixing well with a wooden spoon. Add ¼ cup flour mix and egg yolk to the sweet potato. Stir with a wooden spoon until combined, and then add the remaining flour in two more batches until well combined, to form a soft dough.
Place the dough onto a bench top dusted with cornflour, and knead lightly. Divide the dough into six equal portions. Using your hands roll 1 portion into a log about 30 cm long, and 1 cm wide. Place on a bench, and cut into 2 cm pieces, and repeat for the remaining portion of dough.
Fill a large saucepan with water and bring to the boil over high heat. Add the gnocchi pieces in 5–6 small batches and cook for 3–4 minutes at a time, or until the gnocchi rise to the surface. Using a slotted spoon remove the cooked gnocchi, then drain away any excess water and transfer to a large bowl. (Be sure to bring the water back to the boil before cooking each new batch of gnocchi.)
Browse more festive recipes or join the chatter on Facebook!
Rate This