Sweet potato and chickpea salad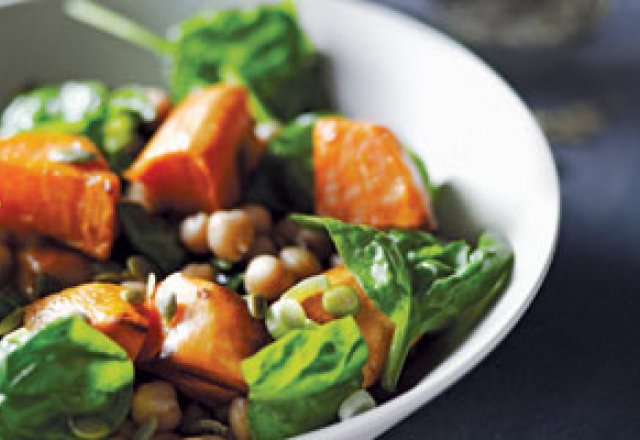 Sweet chilli sauce gives this recipe an extra kick
This sweet potato and chickpea salad recipe makes a great vegetarian weeknight meal, and it's ready in less than an hour
INGREDIENTS
1kg orange-fleshed sweet potato, peeled and cut into large chunks

1½ tbsp sweet chilli sauce

4 shallots/spring onion sliced

100g baby spinach leaves

¼ cup pepitas (pumpkin seeds)

420g can chickpeas, rinsed and drained

Juice from half a medium lemon

400g diet natural yoghurt

1 cup chopped fresh coriander leaves
METHOD
Preheat the oven to 200°C (180°C fan-forced).

Place the sweet potato on a non-stick baking tray and drizzle over the sweet chilli sauce. Bake for 40 minutes, or until the sweet potato is caramelised and soft, turning once during the cooking time. Allow to cool.

Transfer the sweet potato to a large serving bowl and add shallots, baby spinach, pepitas and chickpeas. Gently toss together to combine. To make the dressing, whisk together the lemon juice, yoghurt and coriander. Drizzle over the salad and serve immediately.
A pastry brush is handy for brushing the chilli sauce over the sweet potato chunks to make sure the flavour is evenly spread. You can also make this salad with pumpkin chunks, but you would need to reduce the baking time.
Prep: 10 mins
Cook: 40 mins
Serves: 4

This is an extract taken from The Food Lover's Diet by Dr Penny Small, published by A&U, $39.99, out now.
Rate This