Roast lamb with mint and rosemary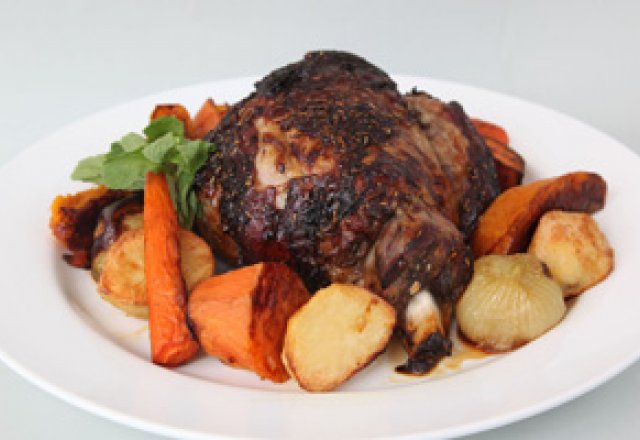 Spring recipes from Symply to Good to Be True
This roast lamb with mint and rosemary is perfect for a Sunday afternoon
Ingredients (serves 6)
1 x 1.25kg lean lamb leg roast
1 tablespoon crushed garlic (in jar)
1 tablespoon dried rosemary
½ cup thick mint sauce
cooking spray
Instructions
Preheat oven 180°C fan forced.

Place lamb into a plastic container that has a lid. Rub garlic and rosemary all over the lamb. Pour mint sauce over the top of the lamb and rub in. Put lid on container and seal tight. Leave in fridge overnight.
Turn lamb in the morning and leave in fridge until ready to cook.
Place lamb onto a baking tray that has been coated with cooking spray then pour marinade over top.
Bake for 2 hours, or until cooked to your liking. Once cooked, remove from oven and leave to sit for 10 minutes before slicing. For a delicious low-fat baked vegetables recipe go to Symply Too Good To Be True book 1.
Nutritional Information (per serve)
FAT TOTAL: 4.8g
SATURATED: 2.1g
FIBRE: 0.1g
PROTEIN 47.7g
CARBS 9.5g
SUGAR: 7.7g
SODIUM: 243mg
KILOJOULES: 1144 (cals 273)
GI RATING: TOO LOW IN CARBS TO SCORE A RATING
Suitable to be frozen.
Symply Too Good to be True 6, $13.95, is available from www.symplytoogood.com.au.
Note from author Annette Sym
One of my family's favourite roasts. Simple to make with the hint of mint and rosemary, this is anything but a boring roast.

Dietitian's Tip
Using this recipe and the roast vegetables from Symply to Good to Be True 1 you will have the perfectly balanced meal, both low in fat and rich in nutrients. Who needs dinner with Tom Cruise?

Browse more low-fat recipes and improve your overall health with our expert tips.
Rate This