Roasted pumpkin and spinach pie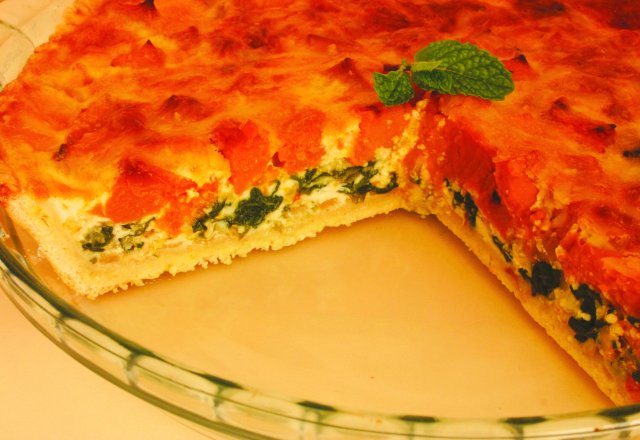 Spring recipes from Symply Too Good
Make the most of this season's vegetables for a fresh, tasty recipe idea
Ingredients (serves 6)
Cooking spray
3 cups (300g) raw pumpkin cut in 1cm dice
PASTRY
¾ cup plain flour
¼ cup self-raising flour
2 tablespoons (30g) Flora Light® margarine
1½ tablespoons skim milk
1 egg white
FILLING
1 teaspoon crushed garlic (in jar)
1 onion diced
1 bunch English spinach roughly chopped
2 whole eggs
2 egg whites
1½ cups skim milk
2 tablespoons grated parmesan cheese
2 teaspoons salt-reduced vegetable stock powder
½ cup 25% reduced-fat grated tasty cheese

Instructions
1. Preheat oven 180°C fan forced.

2. On a flat baking tray that has been generously coated with cooking spray, place diced pumpkin, coat with cooking spray. Bake 25 minutes or until browned.

To make pastry: In a medium size mixing bowl combine flours together. Melt margarine then add to milk. Beat egg white into milk using a fork, pour into flour. Fold ingredients, if needed use your hands to help combine pastry. Place on a well floured surface and roll out to fit a 23cm pie plate that has been coated with cooking spray.

To make filling: Coat a non-stick frypan with cooking spray and sauté garlic and onion for 1 minute. Add spinach and toss until spinach has softened. In a large mixing bowl beat whole eggs and whites using an electric beater for 1 minute. Add milk, parmesan, stock powder, beat well. Spoon spinach over pastry base then sprinkle diced pumpkin over top. Pour egg mix over vegetables, sprinkle with grated cheese. Bake 40 minutes or until cooked in centre and browned. Serve hot or cold.

SUITABLE TO BE FROZEN

Nutritional Information:

PER SERVE
FAT TOTAL 8.0g
SATURATED 3.3g
FIBRE 3.2g
PROTEIN 15.2g
CARBS 24.5g
SUGAR 6.7g
SODIUM 263mg
KILOJOULES 969 (cals 231)
GI RATING: MEDUIM

Symply Too Good to be True 5, $13.95, is available from www.symplytoogood.com.au.
Rate This