Pear and walnut salad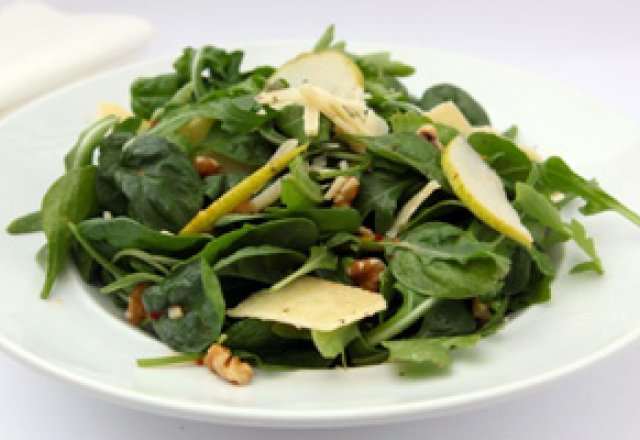 Annette Sym, author of Symply Too Good To Be True, shares her recipes
A fantastic side dish that increases your fruit and veg intake
Ingredients (serves 6)

SALAD
3 cups rocket leaves
3 cups baby spinach leaves
1 medium sized pear
30g walnuts
30g fresh parmesan in block
DRESSING
½ teaspoon crushed garlic (in jar)
½ teaspoon crushed ginger (in jar
⅓ cup Italian fat-free dressing (Kraft®)
1 tablespoon yellow box honey

To make salad: Mix rocket with spinach and place in either a large serving bowl or plate. Cut pear into quarters and remove core. Cut each quarter into thin slices. Chop walnuts into small pieces and cut parmesan into thin slices. Sprinkle pear, walnuts and parmesan over lettuce. Using your hands, mix ingredients together slightly.

To make dressing: In a small bowl combine all ingredients, mixing well together. Pour over salad and serve.

Not suitable to be frozen.


Nutritional Information (per serve)

FAT TOTAL: 5.2g
SATURATED: 1.2g
FIBRE: 1.6g
PROTEIN: 3.4g
CARBS: 7.6g
SUGAR: 6.4g
SODIUM: 203mg
KILOJOULES: 376 (cals 90)
GI RATING: TOO LOW IN CARBS TO SCORE A RATING

Note from Annette

I got the idea for this recipe when I was at a posh restaurant but it was anything but low in fat. If you want to impress your guests then put this on the menu for that something a bit different, but so delicious.

Dietitian's Tip
The Dietitians Association of Australia promotes healthy eating to achieve healthy weight. Recommendations include adding fruit and/or vegetables to every meal and snack.

Browse more of Annette's recipes by buying Symply Too Good to be True 6, $13.95, is available from www.symplytoogood.com.au.
Rate This