Rich chocolate squares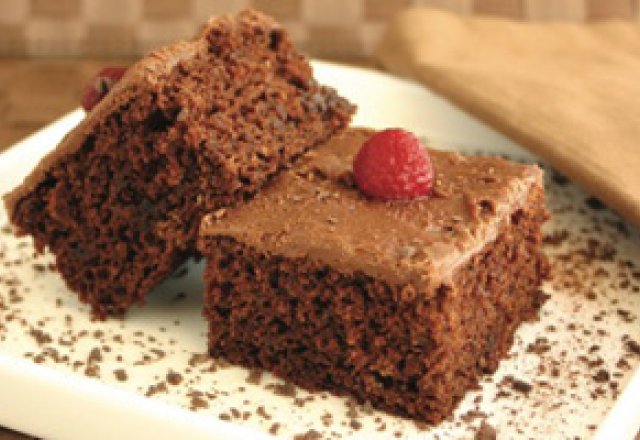 Whip up a treat for the whole family
Annette Sym, author of Symply Too Good To Be True, shares her secret recipe
Ingredients (makes: 15 slices)

SLICE
2 egg whites
⅓ cup sugar
½ teaspoon bi carb soda
½ cup apple sauce (in jar)
⅓ cup cocoa
½ teaspoon vanilla essence
½ cup skim milk
½ cup Nutella® spread
1 cup self raising flour
cooking spray
ICING
1 cup icing sugar
1½ tablespoons cocoa
2 tablespoons Nutella® spread
1–1½ tablespoons skim milk

Preheat oven 180ºC fan forced.

To make slice: In a medium sized mixing bowl beat egg whites and sugar for 1 minute using an electric beater. Stir bi carb soda into apple sauce (it will froth) then add to bowl. Place sifted cocoa, vanilla essence, milk and Nutella into bowl and mix well. Gently fold sifted flour into mixture in one go, treat as if it is a sponge. DO NOT BEAT, as this will make the slice tough. Coat a slab tin with cooking spray then pour mixture into tin. Bake 25-30 minutes or until firm to touch in centre.

To make icing: Sift icing sugar and cocoa into a small mixing bowl. Place Nutella and milk into bowl, mix until a smooth icing is made. Add only enough milk to make the icing spreadable. Whilst slice is still warm spread icing over top, leave to cool. Once cooled, cut into 15 squares.
Symply Too Good to be True 4, $13.95, is available from www.symplytoogood.com.au.

NUTRITIONAL INFORMATION (PER SQUARE)
FAT TOTAL 3.8g
SATURATED 1.3g
FIBRE 0.8g
PROTEIN 3.1g
CARBS 30.0g
SUGAR 21.0g
SODIUM 143mg
KILOJOULES 682(Cals 162)
GI RATING Medium
Next: Try this cherry heaven dessert or browse more delicious recipes.
Rate This