Spiced carrot cake with ricotta icing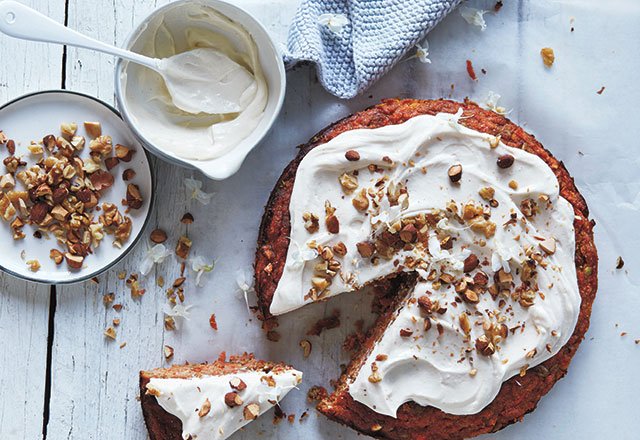 Because cake is always a good idea.
There's a reason why carrot cake is such a favourite – deliciousness! But this one happens to be packed with goodness without compromising on taste. It's gluten free with a guilt-free creamy ricotta icing on top.
Ingredients
350 g (3 cups) almond meal
2 tsps vanilla powder or extract, or 1 vanilla pod, split and seeds scraped
2 tsps ground cinnamon
½ tsp ground nutmeg
2 tsps gluten-free baking powder
125 ml (½ cup) maple syrup
60 ml (¼ cup) macadamia oil
zest of ½ orange (optional)
juice of ½ orange
3 eggs, lightly beaten
500 g (about 4) carrots, grated
½ cup pumpkin seeds, toasted
½ cup chopped walnuts
Icing
200 g (1 cup) ricotta
30 g maple syrup or honey
pinch of ground cinnamon
few drops of vanilla extract
½ cup almonds, toasted
½ cup walnuts, chopped
Method
Preheat the oven to 180°C. Grease a 20-cm round cake tin and line the base with baking paper.
Place the almond meal, vanilla, cinnamon, nutmeg and baking powder in a bowl and mix with a wooden spoon. Add the maple syrup, oil, orange zest (if using), orange juice and eggs, and stir until combined. Gently fold in the grated carrot, followed by the pumpkin seeds and walnuts.
Pour the mixture into the cake tin, making sure you leave behind about 1 tbsp to taste – it's delicious! Then bake for 1 hour or until a skewer inserted in the centre of the cake comes out clean.
Leave to rest in the tin for 15 minutes, then turn out onto a wire rack and allow to cool completely.
Meanwhile, use an electric mixer to beat together the ricotta, maple syrup or honey, cinnamon and vanilla in a bowl. Add 2 tbsps of water and continue beating until the mixture is smooth and airy. Cover and refrigerate until needed.
When the cake has cooled, spread the ricotta frosting on top with a spatula and top with toasted almonds and walnuts. Store in the fridge for up to 3 days.
Images and recipes from Happy & Whole by Magdalena Roze, published by Pan Macmillan, RRP $39.99, and is available in all good book stores now.
Rate This