Lemon meringue pie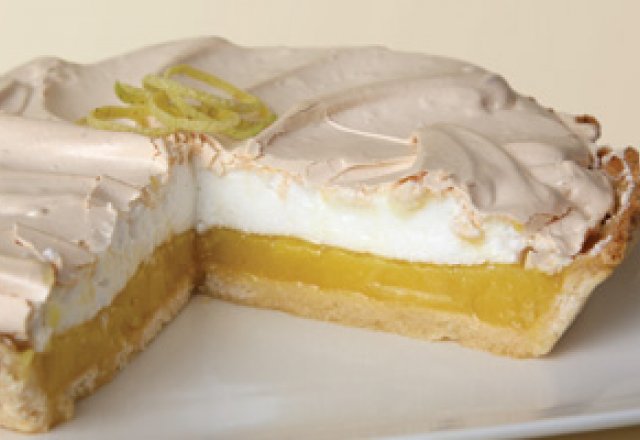 Delicious desserts from Symply Too Good
This lemon meringue pie is perfect for spring
Ingredients (serves 10)

PASTRY
1 cup self-raising flour
1 tablespoon sugar
1 tablespoon (15g) Flora Light® margarine
2 tablespoons skim milk
1 egg white
flour to roll pastry
FILLING
½ cup fresh lemon juice
½ cup sugar
½ cup water
5 level tablespoons custard powder
½ cup evaporated light milk
MERINGUE
3 egg whites
¾ cup caster sugar
Preheat oven 180°C fan forced.

To make pastry: In a medium size mixing bowl combine flour and sugar. Melt margarine and add to milk, using a fork beat egg white into milk mixture until combined. Pour into flour and fold together. Place pastry on a well-floured surface and roll out to fit shape of round pie dish (23cm) that has been coated with cooking spray. Roll up pastry using a rolling pin, lift into pie plate. Trim around edges and bake 10-15 minutes or until lightly browned. Allow to cool.

To make filling: In a medium size saucepan heat all ingredients except milk. Using a whisk, blend ingredients together until mixture comes to the boil, whisk in milk. Leave to cool.
To make meringue: In a medium size mixing bowl beat egg whites until stiff peaks form. Gradually add in sugar beating well each time until all sugar has been used.

To assemble pie: Spread lemon filling evenly over prepared pastry base. Spoon meringue mixture on top of filling, spreading to the edge of pie, make peaks with flat of spoon. Bake10-15 minutes or until meringue is browned.

Nutritional Information (per serve)

FAT TOTAL 1.0g
SATURATED 0.3g
FIBRE 0.5g
PROTEIN 3.3g
CARBS 36.1g
SUGAR 25.0g
SODIUM 116mg
KILOJOULES 689 (cals 164)
GI RATING Medium
Symply Too Good to be True 2, $13.95, is available from www.symplytoogood.com.au.
Don't forget to browse more recipes and connect with us on Facebook!
Rate This