Pear and rhubarb crumble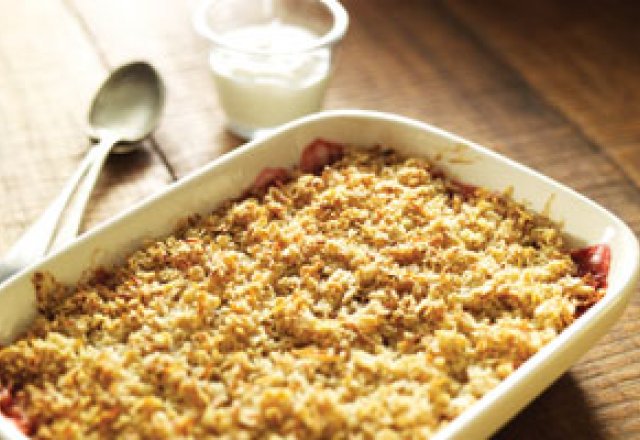 A delicious winter dessert that will impress the whole family
This family favourite combines a crisp and crunchy topping with a fruity filling, and made our way it delivers a delicious dairy-free twist for non-dairy eaters
INGREDIENTS
1 bunch rhubarb, trimmed and cut into 5cm lengths

2 pears, cored, peeled and sliced

2 tbsp brown sugar

Juice of half a lemon

1 tbsp water

1 cup traditional oats

1/3 cup shredded coconut

40g dairy-free spread/butter

1/3 cup brown sugar, extra
METHOD
Preheat the oven to 180ºC (160ºC fan-forced). Lightly grease a 6-cup capacity baking dish.

Combine the rhubarb, pear, sugar, juice and water in a medium saucepan. Cook the mixture, covered, for 5 minutes or until softened. Drain the fruit mixture and discard the liquid.

Spoon the fruit into the prepared dish.

Place the oats, coconut, dairy-free spread and extra brown sugar in a medium-size bowl. Using fingertips, rub in the dairy-free spread until the mixture is crumbly. Sprinkle the dry mix over the fruit in the baking dish and bake in the oven for 15 minutes, or until golden.
Serve with vanilla soy yoghurt if desired.
Prep: 10 mins
This is an extract taken from The Food Lover's Diet by Dr Penny Small, published by A&U, $39.99, out now.
Rate This