Wheat free wining and dining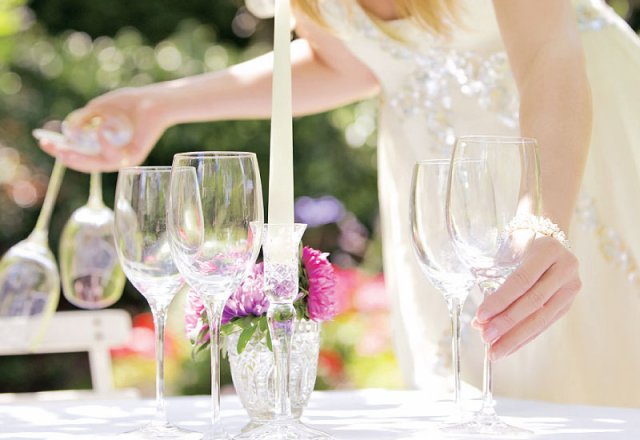 Ever hosted a dinner party with gluten-free diners on the guest list?
Despite common misconceptions, wining and dining gluten-free friends need not be all cardboard and carrot sticks. Diana Timmins discovers plenty of platters to safely tickle all tastebuds.
Gluten-free foods need not be boring, bland or tasteless," says gluten-intolerant Advanced Accredited Practicing Dietitian, Dr Sue Shepherd. "There are an abundance of gluten-free foods that are readily available to ensure that the host can cook with flare, maximising flavour, aroma, and excitement of the foods presented."
Regardless of whether your guests eat gluten-free for lifestyle choices or medical reasons like coeliac disease (gluten intolerance), it's important you cater for their needs by understanding which foods to scrap and which to stock, as well as how and where to shop for your gluten-free groceries. From there, simply unleash your culinary creativity!
FOODS TO SCRAP:
Off The Gluten-Free Food List
We see and hear the word 'gluten' everywhere, but many of us question its exact meaning. Does it have something to do with your 'derrière' muscles or an adhesive in your craft box? No, gluten is in fact the protein component of the following grains which immediately need to be scrapped off your gluten-free shopping list:
✖ All kinds of wheat: spelt, drum, kumut and dinkel
✖ Barley
✖ Rye
✖ Oats
✖ Triticale (cross between wheat and rye)
FOODS TO STOCK
On the gluten-free food list
The good news is that there are plenty of naturally gluten-free grains and starches to replace those on the taboo list, including:
✔ Rice (all kinds)
✔ Corn / Maize
✔ Polenta (cornmeal)
✔ Potato
✔ Soy
✔ Lentils / Peas
✔ Millet
✔ Buckwheat
✔ Quinoa
Other naturally gluten-free foods to include:
✔ Fruit: Fresh, frozen, canned, preserved, stewed or dried
✔ Vegetables: Fresh, frozen, dehydrated, or canned without sauces
✔ Meat, fish and poultry: Fresh, smoked, corned or frozen without sauces, crumbs or batters.
✔ Cheese: Block or processed, cream or cottage (be wary of spreads)
✔ Nuts and seeds
"Of course many 'every day' foods are also gluten free," assures Dr Shepherd. The key is knowing how and where to find them.
As for beverages, unless specifically labelled as gluten-free, ale, beer & malted drinks all contain gluten. Pure water – still or sparkling and organic red or white wine are safe options.
FINDING YOUR GLUTEN-FREE GOODIES
Grocery shopping G-Free Style
"Health food stores and the health food section of the major supermarkets are great places to find an extensive range of specialty gluten-free products," advises Dr Shepherd. "These include alternatives to what would typically be wheat-based products, such as pasta, breakfast cereals, baking mixes, dry and sweet biscuits."
Many products will clearly state on the label if they are gluten-free. Those products that don't state it on the label need to be investigated before consumption. Read the label carefully and ensure individual ingredients don't contain gluten. When reading labels, be particularly wary of such terms as flavourings, seasonings, binders, bran, wheatgerm, wheat starch, wholegrain, thickeners and malt.
"A dietitian can describe the gluten-free diet and how to read ingredients on food labels to choose foods safely," advises Dr Shepherd. "The Coeliac Society in each state can also provide information about local places to shop and find delicious gluten-free foods."
You can contact the Coeliac Society and access lots of helpful resources at www.coeliacsociety.com.au.
AVOIDING CONTAMINATION
Cooking with Gluten-free Etiquette
Coeliacs are super-sensitive to gluten, so measures need to be taken if other gluten-containing foods are being prepared or consumed at the same time. Contamination can occur as a result of such things as:
Breadcrumbs from regular bread sitting in a toaster and on breadboards

Sharing utensils between saucepans whilst cooking and stirring

Unclean barbecue grills and using the same tongs when turning gluten-free and gluten-containing foods

Crumbs in spreadable condiments: wheat biscuits in dip and breadcrumbs in sandwich spreads

Wheat flour, which when airborne can land on surfaces and utensils
"If cooking for a guest that requires a gluten free-diet, it is often easiest to make the entire menu gluten-free to avoid risk of contamination," says Shepherd. "There is no reason why every guest at the dinner party cannot enjoy the great tasting delights of a gluten free dining experience!"
Now that you've laid down the foundations, it's time to tie up the apron, grab yourself a copy of Shepherd's gluten-free cookbooks and get cracking! NH
Gluten Free Diner Party Menu
PESTO AND FETTA MUSHROOMS
15 medium (300g) button mushrooms

1/3 cup gluten free pesto

50g fetta cheese, cut into 1cm cubes

4 leaves fresh basil, chopped
Pre-heat oven to 180°C. With a damp cloth, wipe clean the outer skin of mushrooms.
Remove stem and place on greased baking tray. Fill each mushroom with 1/2-1 teaspoon of prepared pesto. Top each mushroom with cube of fetta cheese. Bake in pre-heated oven for 5-10 minutes, or until fetta begins to turn golden brown. Remove from oven, cover with aluminium foil for two minutes. Mushrooms will sweat and become soft. Remove foil. Sprinkle chopped basil as garnish. Serve warm.
Makes 15
SMOKED CHICKEN PASTA
500g gluten free pasta

1/4 cup (65ml) olive oil

2 cloves garlic, crushed

1 large fillet (200g) smoked chicken, sliced

2 cups (70g) baby spinach leaves

1/3 cup (55g) pine nuts

1/2 cup (60g) parmesan cheese, grated

salt, freshly ground black pepper to taste
Cook gluten free pasta in a large pot of boiling water until just tender. Drain, return to the saucepan, stir through two tablespoons olive oil, cover to keep warm.
In a large frypan, sauté garlic, smoked chicken, spinach and pine nuts in remaining olive oil until chicken and pine nuts golden brown and spinach wilted. Add cooked gluten free pasta, parmesan cheese and extra olive oil to pan, toss through over medium heat until cheese melted. Add salt and pepper to taste, and additional olive oil if desired.
From: Irresistibles for the Irritable Published by Shepherd Works Pty Ltd ISBN 0-9751957-0-0
RHUBARB AND BLUEBERRY CRUMBLE
Serves 8
1 bunch rhubarb, stalks cut into 3cm pieces

1/2 cup sugar

2 x 410 g tins blueberries in syrup, drained

3 tablespoons pure icing sugar

3/4 cup fine rice flour

1/2 cup brown sugar

2 tablespoons desiccated coconut

60 g butter, at room temperature, cubed
Preheat oven to 180°C. Grease a 20cm square baking dish.
Combine rhubarb, sugar and water in medium saucepan and cook for 10 minutes or until just tender. Drain.
Place the cooked rhubarb, blueberries and icing sugar in a medium bowl and stir until well combined. Spoon the mixture into the baking dish.
Combine the rice flour, brown sugar and desiccated coconut in a small bowl. Rub in the butter until the mixture resembles fine breadcrumbs. Sprinkle evenly over the fruit and bake for 30 minutes or until golden brown.
From: Gluten Free Cooking Published by Penguin Books
ISBN 978-0-670-07113-5
Rate This