Poached apples with nutty crumble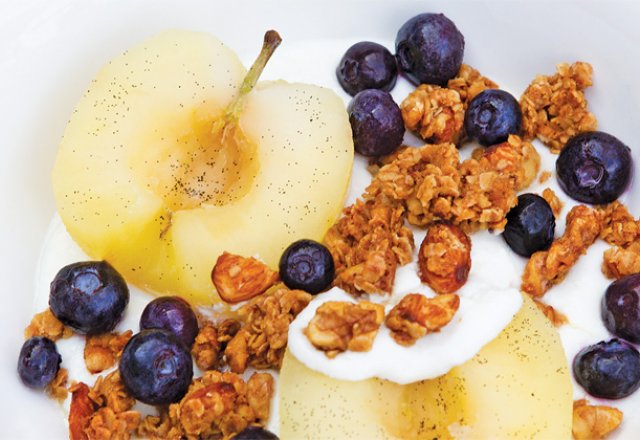 Tasty dessert ideas
Rosie Percival from Green Cooks shares her tasty recipes.
Ingredients (serves 4)

For the Crumble
¼ cup coconut oil
¼ cup honey
½ cup walnuts, roughly chopped
½ cup almonds, roughly chopped
½ cup rolled oats
¼ tsp nutmeg
½ tsp cinnamon
Pinch of salt flakes
For the Apples
Zest and juice of one lemon
1 tsp vanilla bean paste (or 1 split vanilla pod)
1 tbsp honey
4 pink lady apples, peeled, halved, core removed
To Serve
1 cup frozen blueberries
Natural yoghurt
Method
Preheat over to 170°C.
Add coconut oil and quarter cup of honey to a saucepan and place over a medium heat. Heat until both are liquid and combined. Remove from heat and stir in nuts, oats, spices and salt flakes. Spread mixture out across a baking dish lined with baking paper and bake for 30 minutes, turning once or twice, or until golden. Set aside.
While the crumble is cooking, add three cups of water, lemon zest and juice, vanilla and one tablespoon of honey to a large pot. Bring to a simmer, add apple halves (making sure they are submerged in the liquid) and cover with baking paper. Poach for around 20 minutes, or until tender. Remove apples with a slotted spoon and set aside.
Drain liquid from pot (you may wish to reserve this to reduce it to a sweet sauce for later use). Add blueberries and a tablespoon of water. Place back on the heat and cook, stirring, until blueberries have thawed and warmed.
Place two apple halves on each serving dish and top with a sprinkling of nutty crumble, a dollop of yoghurt and a spoonful of berries.
Love this recipe? Try spiced baked apples>>
Photo credit: Jessica Symonds
Rate This