Pasta with pesto and mushrooms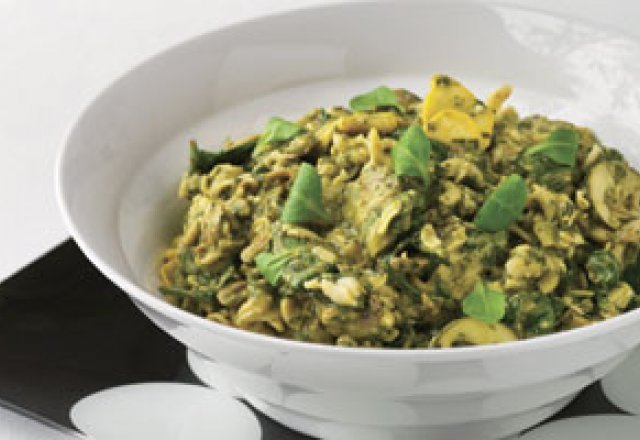 Gluten free pasta everyone will enjoy!
Make your own delicious pesto in this simple pasta recipe
PESTO
2 garlic cloves, crushed
30 g Brazil nuts
2–3 cups tightly packed fresh basil leaves

2 tbs lemon juice
1 medium avocado (180 g), stone removed
1 tbs extra virgin olive oil
¼ tsp ground black pepper
500 g wholegrain gluten-free pasta
Olive oil cooking spray
2 tsp lemon zest

Juice from 1 lemon
Cracked black pepper
300 g button mushrooms, sliced
1 medium zucchini (150 g), cut in half and thinly sliced
2 medium (80 g) button squash, thinly sliced
6 cups (200 g) baby spinach leaves
METHOD
To make the pesto, place the garlic, Brazil nuts, basil and lemon juice in a food processor. Process until combined. Add the avocado flesh and process on low speed, and gradually drizzle in the olive oil until smooth. Taste and season with pepper if needed.

Fill a large saucepan with water and bring to the boil. Add the pasta and cook according to packet instructions until tender (al dente), stirring regularly. Drain and set aside.

In a medium frypan heat cooking spray over medium heat. Add lemon zest and juice, pepper and mushrooms and cook until the mushrooms soften and are golden brown (add a little water to help soften if needed). Add the zucchini and squash slices and cook for 1–2 minutes, or until just starting to soften. Add the spinach leaves and cook, stirring all vegetables until the spinach has just wilted.

Combine the vegetables and pesto with the pasta, then stir through to ensure they are well combined. Serve immediately.
Extracted from
Wheat and gluten free diabetes
, $34.99 by Dr Sue Shepherd, Fortiori Publishing.
Looking for more wheat and gluten free recipes? Try the recipe for chilli salmon patties or delicious ricotta and blueberry crepes. Don't forget to follow us on Facebook and Twitter for new recipe ideas every week.
Rate This